Pioneering Software for Perfect Pronunciation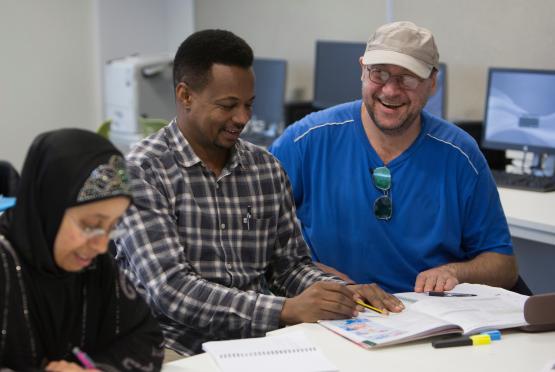 Visual computer tool encouraging more fluent English speakers backed by City of Glasgow College.
English pronunciation is not always predictable from the spelling forms that many students learning the language for the first time see. Words that look the same might have very different pronunciations. That is why the company behind a cutting edge online pronunciation tool which perfects spoken English sought the expertise of teaching staff at City of Glasgow College during the early stages of development.
Glasgow based Micro Phonics Ltd has produced the Visual Pronunciation Coach which enhances the teaching of English as a foreign language. Its creator, Colin Hamilton, has now concluded negotiations to supply the software to a potential 500 million students across Russia and the Commonwealth of Independent States.
Paul Little, Principal and Chief Executive at City of Glasgow College, said:
"As the leading technical and professional skills college in Scotland and the largest provider of ESOL (English for Speakers of Other Languages) in Glasgow, I am delighted that our college played such an important role in the development of this ground-breaking software. It endorses our innovative teaching and learning ethos and sums up the City of Glasgow College way to Let Learning Flourish through innovation, excellence and inspiration no matter your native language."
Mary McManus, Curriculum Head for ESOL at City of Glasgow College said:
"Colin approached us at the start of his developments and worked with ESOL (English for Speakers of Other Languages) staff to learn what our student needs were in relation to pronunciation. Together they compiled a list of words and sentences which present particular challenges.
"The Micro-Phonics eLearning tool is a great resource. It is being used as an extension to course material which students can access in college or remotely. Self-checking quizzes are also available which provide instant feedback."
Easily incorporated into virtual learning environments in schools, colleges and universities, Micro-Phonics' visual pronunciation coach offers assistance with varying accents and blending phonemes. It helps students sound out complete words and sentences. Assessment is drawn from a comprehensive set of 6,000 questions.
Colin initially had the idea for the eLearning tool when showing adult literacy tutors how to use ICT in their lessons. He has had support from Scottish Enterprise. Business Gateway, Interface, Scottish Development International, the University of Strathclyde Entrepreneurial Network, the University of Glasgow and Education Scotland, as well as City of Glasgow College.