A Play, A Pie and A Pint for College Graduates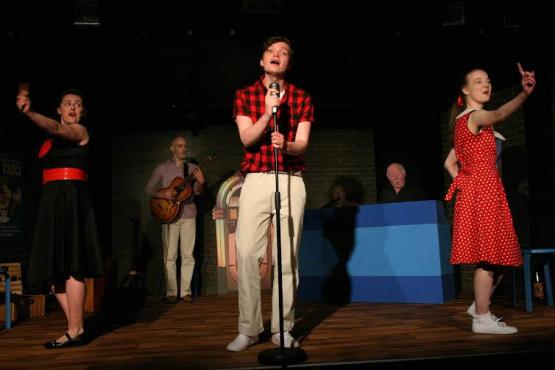 City of Glasgow College student, Gregor MacKay - A Play A Pie and A Pint
City of Glasgow College HND Acting and Performance students tread the boards in a new play by Dave Anderson.
'The Day I Found the Blues', written by and starring Dave Anderson is part of the 'A Play, A Pie & A Pint' series at Oran Mor and runs until Saturday 11 June.
Gregor MacKay plays the young Dave Anderson who has rewound the clock back to 1960 to tell his own teenager in love tale. His love interest is played by fellow student, Marianne Pedley.
This is Gregor's first professional play who said:
"It is going really well and is a good starting point for meeting other people within the industry. It is particularly good to be working with Dave Anderson but this is very much a collaborative experience. We are all trying to get the best out of the play.
"You never know when the next job might be or who might be on the look-out. Jack from the BBC's Still Game was in the audience earlier, so anything is possible. Next up for me is BA (Hons) Acting for Stage & Screen at Queen Margaret University but, for now, it is important to keep doing what I'm doing and getting experience."
Gregor recently received a Certificate of Excellence for exceptional student achievement at an awards ceremony that was held at the college's Riverside Campus.