Riverside Campus Wins GIA Design Award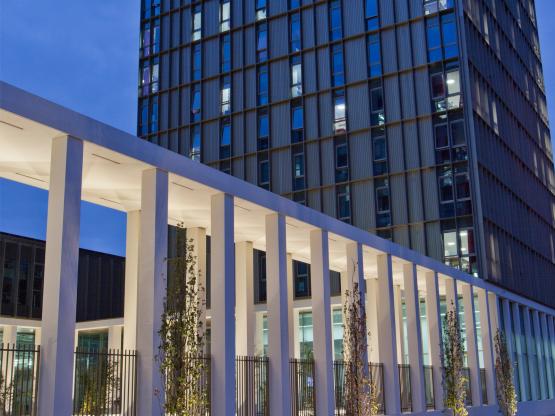 Riverside Campus Wins GIA Design Award
Glasgow Institute of Architects has announced City of Glasgow College's new state-of-the-art £66m Riverside Campus, opened just weeks ago by First Minister Nicola Sturgeon, as winner of a major design award.
The development – part of a £228m twin-site supercampus that also includes City Campus on Cathedral Street, which is set to open in summer 2016 – was identified by GIA as a "memorable civic landmark" for the city.
City of Glasgow College Principal and Chief Executive Paul Little said: "This very welcome award from Glasgow Institute of Architects represents further recognition of a world class development by City of Glasgow College. I am pleased that such a respected institution as GIA recognises that our college is making positive change for Glasgow, for Scotland, and on an international scale."
The designs for Riverside and City campus were created by a team of designers led by Michael Laird and Reiach and Hall Architects. The new facilities will accommodate more than 40,000 students of 135 nationalities and 1200 members of staff. The completed supercampus will offer the broadest range of courses amongst any such colleges in the UK.
In naming the City of Glasgow College construction on the banks of the River Clyde as the subject of a 2015 Design Award in Education, a GIA spokesman described Riverside Campus as "the result of a combination of ideas about the city and about the student experience".
The description continued: "The site occupies a key gateway in the city, at the south-west corner of the Albert Bridge, marking a major crossing over the Clyde from the south side. The new building deliberately engages this crossing point with considerable scale – it becomes a gatekeeper marking the crossing point and creating a new memorable civic landmark.
The buildings are organised round two new civic spaces – a cloistered garden and a grand hall. These are convivial social spaces to encourage students to mix and realise opportunities for blended learning across disciplines. These internal and external rooms have dramatic views across the city and are visually engaged with the city campus under construction on Cathedral Street at the top of the city's skyline."
Specialist facilities at the Thistle Street development include a working ship's engine, cross-discipline project bases to encourage blended learning, an innovative multi discipline engineering hall, and a ship's bridge simulation suite. The building is highly technology enabled, with activated circulation designed as an integrated learning landscape.