Rocket Car Challenge at City of Glasgow College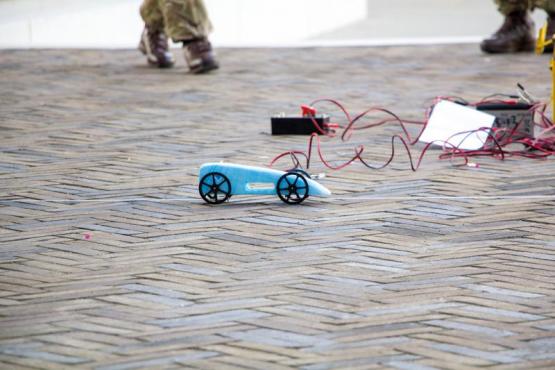 BLOODHOUND Project Rocket Car Challenge at City of Glasgow College
As part of Scottish Apprenticeship Week 2016, City of Glasgow College has been running Rocket Car Challenge workshops with students from its Building, Engineering and Energy Faculty.
The Rocket Car Challenge is part of the BLOODHOUND Project, a global engineering adventure that is using a 1,000mph land speed record attempt to inspire the next generation of scientists and engineers, and encourage young people to get involved in science, technology, engineering and mathematics (STEM) subjects.
Pilot training programmes were set up at both City of Glasgow College and Edinburgh College with staff and members of the British Army certified to train school and further education students in rocket car construction. Both colleges are now established as delivery hubs for the project for the next year.
John Sweeney, Curriculum Head for Engineering & Energy, said: "Over 120 of our Further and Higher Education students, as well as our Construction and Gas Installation apprentices have taken part in the Scottish Apprenticeship Week's Bloodhound Rocket Car Challenge.
"The students have had a great time designing, building and testing their rocket cars over our 30 meter time trial test track. The Bloodhound activities will be ongoing over the next year. Over 120 High School students will be participating in the Bloodhound activities during City of Glasgow College's Women into Engineering day being held at our Riverside campus on Thursday 10 March 2016."
The BLOODHOUND Project centres on BLOODHOUND SSC, a supersonic car designed not only to go faster than the speed of sound (supersonic) but to over 1,000mph (1,600km/h). It will cover a mile in just 3.6 seconds. The car is approximately 13.4m long and weighs 7.5 tonnes.