Scotland's largest college celebrates student achievement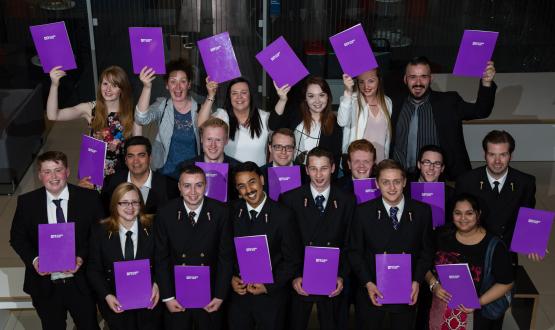 City of Glasgow College Student Excellence & Achievement Awards
City of Glasgow College has recognised student achievement at a formal awards ceremony held on Tuesday 17 May.
The college's Riverside campus was the stunning venue for the celebratory event attended by 25 students along with invited guests and speakers. The students represented a broad range of study across the Faculties of Nautical, Education & Society, Creative Industries, Business, Building and Engineering, Leisure and Lifestyle as well as the Student Association.
City of Glasgow College Principal and Chief Executive Officer, Paul Little, said:
"This is our first annual awards ceremony designed to celebrate the achievements of our truly remarkable students. Our students are at the heart of everything we do so we believe it is right that we recognise those individuals who have pushed passed their limits to succeed in their studies, or who have gone above and beyond in helping others.
"Our purpose at City of Glasgow College is to let learning flourish and we do this through inspiration, excellence and innovation. The students we have awarded are shining examples of this motto in action, and what can be achieved through determined effort, endeavour and resilience."
Professional Cookery student, Courtney McDowall, who studies at Rosshall Academy while enrolled at the college, was the runner-up in the final of this year's Springboard FutureChef Competition held in March at Westminster Kingsway London. She said:
"This is mind-blowing. I'm just a young girl coming to college and hoping to become a chef. I didn't expect all this. It's an amazing experience and an honour to be here and to be recognised."
HND Acting and Performance student, Gregor MacKay, is currently in rehearsals for a play by Dave Anderson for the new 'A Play, A Pie & A Pint' series at Oran Mor. He said:
"It is good to be recognised and know that the work you are putting in pays off particularly in a learning environment. It shows that, through hard work and enjoying the course, if you are committed you can set the opportunities. It is good to be surrounded by a positive environment."
The Chair of the Scottish Funding Council, Professor Alice Brown, was a guest speaker and its Chief Executive, Laurence Howells, who retires from the role this July, presented the students with Certificates of Excellence.