Scottish lecturer triumphs at UK photography awards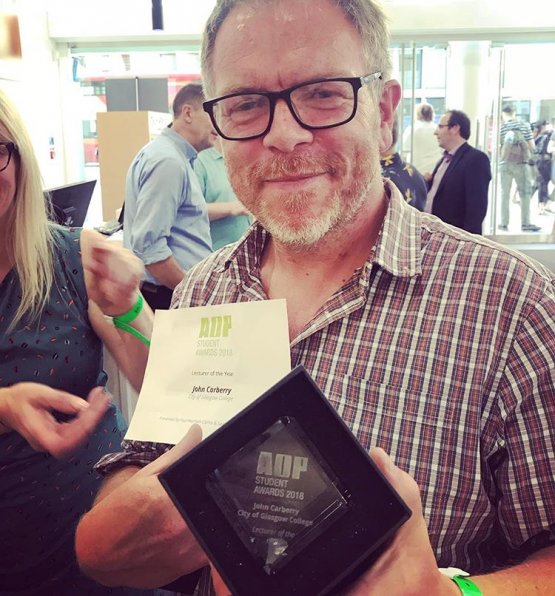 CoGC John Carberry, AOP Lecturer of the Year 2018
Senior Lecturer in Photography at City of Glasgow College, John Carberry, has won Lecturer of the Year at the recent AOP (Association of Photographers) Student Awards 2018.
Ten of the college's photography students reached the final 60 from over 1500 entries, but it was their lecturer who captured the limelight with the coveted title that recognises his professionalism and commitment to his students.
Commenting on his achievement, John said:
"I am genuinely privileged to be part of an extremely creative and professional team. There is a huge amount of energy, passion and innovative teaching that inspires and engages our students in a hugely creative way.
"The AOP award is an amazing reflection of how our students feel to be part of photography at City of Glasgow College and I am shocked, honoured and delighted to receive this award. Our students' recognition at the awards is hugely fulfilling and to see their work recognised on this national platform offers a great start to their careers."
Sandra Gunn, Director for the Faculty of Creative Industries at City of Glasgow College, added:
"John is an exceptional lecturer and this award is thoroughly deserved. We are privileged to have him as part of our team - he is an outstanding and highly creative photographer who shares his passion, knowledge and insights in a sensitive way that both informs and inspires our students.
"This award is nominated by students, with students then voting on the winner, which will mean a lot to John. The faculty is both proud and delighted that he has received this prestigious recognition."
The Association of Photographers is one of the most respected photography associations in the world, providing a sense of community and promoting and protecting the worth and standing of its members.
The Student Awards Exhibition shows the work of all 60 finalists and is on display until 31 July at Wex Photo Video, 37-39 Commercial Rd, Whitechapel, London E1 1LF.