Sky's the Limit for City Cabin Crew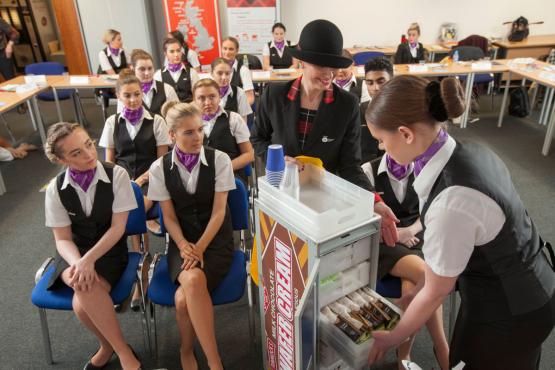 COGC students experience a 'day in the life' with Loganair.
Air Cabin Crew students at City of Glasgow College recently enjoyed a visit to Loganair's training academy.

The City & Guilds students study a range of units about the airline industry, including how to operate safety and emergency equipment, follow emergency procedures and operate pre-flight checks and in-flight services.

Their visit to Loganair gave the students a day-in-the-life experience of a new entrant cabin crew training course within an industry organisation. The whistle stop tour of the three week course gave them the chance to bring what they learned in college to life.

Georgia Bell, who completes her course in June, thoroughly enjoyed her day with Loganair, saying:

"It was an amazing insight into the first stages of a cabin crew when you are lucky enough to train with them. Everyone was really helpful and everything was so organised. It was such a good experience and I would love to do something like this again. All the questions I had were answered and I am looking forward to a career in the industry even more now."
Alan Cowan-Moore, Lecturer in Travel & Tourism at City of Glasgow College, said:

"We were delighted to work with Loganair to set up this invaluable experience for our City & Guilds, Diploma in Air Cabin Crew students. The new entrant training session was delivered with professionalism and provided an insight into the duties and skills of Loganair's cabin crew.

"The visit gave our students the opportunity to impress a potential employer and is an outstanding example of how collaboration with industry partners can inspire our learners to achieve their career goals."

The City & Guilds Air Cabin Crew Diploma helps develop the skills required for employment in the aviation or airport ground industry and covers everything from customer service and employability skills, to health and safety procedures.

Further details about the course and required entry requirements are available on our website.
Loganair is now one of the longest established airlines in the United Kingdom with a comprehensive network of scheduled services.
For information on careers with the Scottish airline visit http://ow.ly/4MSx30iYXTu.