Special Delivery for City of Glasgow College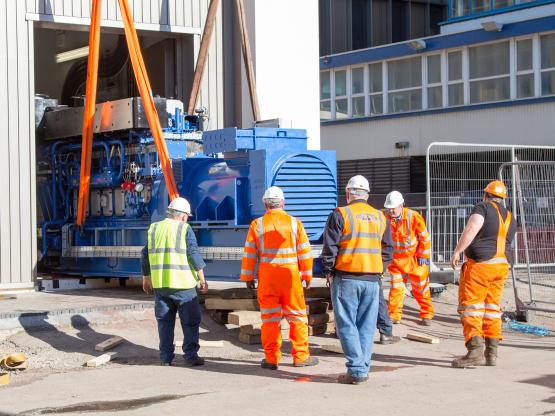 Special Delivery for City of Glasgow College
City of Glasgow College recently took a large scale delivery when a 20 tonne ships engine arrived at the Engineering Workshops at the college's Riverside Campus. The MAK designed and built engine will be the vital component in what is expected to be the most modern Working Engine Room in a college in the UK, if not Europe, underlining the World Class facilities which City of Glasgow College offers students wishing to become Marine Engineers.
Supplied, delivered and fitted by Imps UK Ltd of Lincoln, the fully functioning engine room will be ready for its first students hopefully by mid December 2015. This engine can be used as the main engine for a coastal vessel or as a diesel generator for a large marine vessel but in this situation will be used to drive an alternator instead of a ships propeller. This alternator can then be paralleled onto the Main Switchboard with the Caterpillar Generator, also being installed, which will then supply the power to run the plant.
The engine was eased into its new home on four sets of tiny wheels which proved more than capable of holding its 20 tonnes. It was then jacked up off the wheels and into position on the concrete floor where it will be adequately mounted to help cut down on vibration when running.
Alasdair Macmillan is the Working Engine Room Manager: "It's been very exciting taking delivery of the engine and seeing it being installed. In just a few weeks, what is now a large and fairly empty space will be transformed into a ships engine room where students will be able to get hands-on experience of all the aspects of operating an engine, and other essential marine engineering equipment, safely whilst respecting environmental conditions."