Staff Development the City of Glasgow College way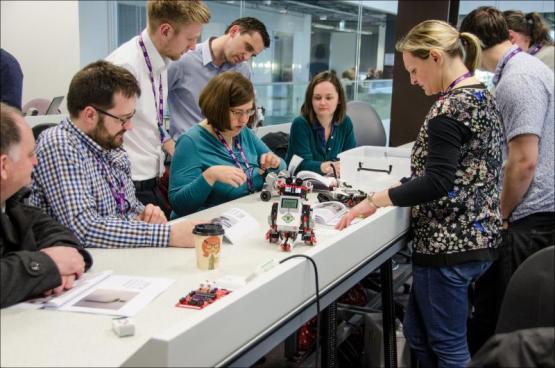 City of Glasgow College - ONE CITY
If you missed this year's annual staff development day, ONE CITY, then WATCH our edited highlights that capture all the buzz and fun, the enthusiasm and the learning experiences.
ONE CITY was held in Riverside campus on 24 March and kicked off with staff and students showcasing a variety of the many skills and courses that go on at the College.
Over 70 different activities were on offer and up to 1400 people took part in these across three separate sessions. Thirty members of staff held workshops, the highest number to do so, and many of our students gained valuable work experience in helping to organise and run the event.
This special one day event takes staff development to a whole new level. It is a unique opportunity for staff to take time away from the usual work routine and put into practise our College's Let Learning Flourish philosophy.
The range of workshops, talks, events and activities arranged by Organisational Development were designed to make us think, question, debate and learn.
The value of this CPD event, and the esteem it is held in, is demonstrated by the number of external stakeholders, partners and key influencers from business, education, entertainment and media who continue to take part each year.
This year's highlights included the Fitness MOTs, which had staff queuing up ahead of the opening times, and the Massage and Nail therapy sessions, whose students needed some treatment of their own such was the extent of popularity and demand for their services.
The Charlie Flynn v Graeme Spiers bout was a big draw with Commonwealth Gold Boxing Champion Charlie "the Mailman" Flynn delivering a range of humorous and entertaining responses to Spiers' line of questioning.