Student Chef wins bronze for Scotland and College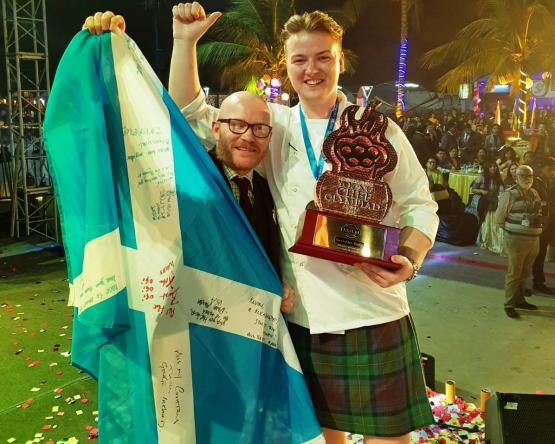 Kevin McCafferty, an HND Professional Cookery student at City of Glasgow College, has won a bronze medal at the Young Chef Olympiad (YCO) reported to be "world's biggest culinary battle of student chefs."
The 22 year old was chosen to represent Scotland, and his college, at the international culinary competition involving more than 40 countries from across the globe. Judges included eminent celebrity and Michelin-starred chefs including Sanjeev Kapoor and Enzo Oliveri.
Kevin said he was delighted to bring home a medal:
"I still can't believe it! The competition was really intense but it was an incredible experience and definitely worth all the hours of training and stress. Meeting so many amazing chefs from so many different backgrounds is really inspiring. It makes you want to be the best you can and being the only student chef representing Scotland was also a very proud moment for me when I won."
The competition challenges students to show their culinary expertise by cooking dishes in a number of competitive rounds. These students are accompanied by their mentors who guide them throughout the course of competition. City of Glasgow College senior lecturer and Scotland's National Chef, Gary Maclean was on hand to offer support. He said:
"I'm so proud of Kevin. He worked really hard and showed the world he could hold his own in the kitchen and under pressure. It was an amazing learning opportunity and I'm delighted I was able to be there to encourage Kevin. He's a skilled chef and I'm sure will go on to even bigger and better things."
Paul Little, Principal and Chief Executive, City of Glasgow College, added:
"Team City is delighted that Kevin secured a medal for both Scotland and City of Glasgow College. It really is fantastic for our world class college to be recognised in this way and for a Scottish student to be in the top three best student chefs in the world, is an incredible result."
The third place accolade was shared by Kevin and Henry Lee from Hong Kong. Produced and run by the International Institute of Hotel Management, the event was held across Delhi, Bengaluru, Pune and Kolkata over a period of six days.
The contestants pitted their skills in technique, hygiene and other key areas while using the same ingredients to come up with the best dish possible. Lai Jia Yi from Malaysia took first place with Indian student chef Surya Sekhar Roy Choudhury claiming second and all the winners were presented with their medals at a grand finale ceremony in Kolkata.