Students achieve business success with help from competition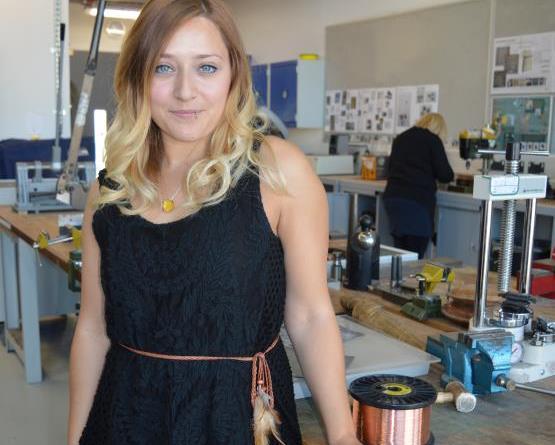 City of Glasgow College students are once again being given the chance to win part of a £20,000 prize fund.
The annual John Mather Trust Innovation & Enterprise Competition offers budding entrepreneurs a lump sum to help fund a creative business initiative.
James Wilson, Curriculum Head, Industry Academy and Youth Employability at City of Glasgow College, said:
"In the last two years 15 students have shared £40,000 of start-up funding to help get their businesses off the ground. Each year we receive a high number of applications and competition is fierce but the reward for students who take part is getting the chance to see their ideas become tangible enterprises."
Now in its third year, the competition has created a number of success stories including HND Jewellery graduate, Stevie Adams, founder of Indigo Aana Jewellery, who won two years ago. She says:
"If you want to start a business, one you are passionate about and one you have a good vision of where you'd like it to go, then I wouldn't hesitate to apply. There is nothing to lose and a lot to gain. It is hard work but there is help there and all that effort is worth the time.
"It's an opportunity to learn more about running your own business, who is out there to help you with funding and other advice and a great chance to network with other passionate people. You can learn a lot about yourself and your vision through the process also. There is absolutely no reason why you shouldn't apply, it's a fantastic opportunity."
Michelle Currie was one of last year's winners who started up Mischa Wolf Design. She believes the funding was one of the main reasons she managed to get her business started, and said:
"My website and social media channels are going well. I've created a stock database, have a core range and am doing bigger one off pieces and repairs. I also have my first physical stockist which is really exciting. It's an artisan shop in Loch Lomond Galleries and my pieces sold really well over Christmas. I'm now getting hearts ready for Valentine's Day and hoping that will go as well. I am also reaching out to Canada to a city called Glasgow which was set up by Scottish settlers and I am getting some of my Glasgow inspired pieces ready to approach them with."
The competition is offered in partnership with the John Mather Charitable Trust with support from Bridge 2 Business, the Prince's Trust and Scottish Enterprise, and it is open to all City of Glasgow College students.
First stage entry deadline is Wednesday 7 February. Students can find out more on our website.
This year the competition has a boot-camp element where participants can test and develop their ideas with Bridge 2 Business..
For more details please watch the attached video which has clips of students from last year's competition. The college also has a business start-up space at its City campus to help students achieve their ambitions and resident entrepreneur, Fynn Elkington, is on hand to provide support.