Students learn art of sound at AES Christmas Lecture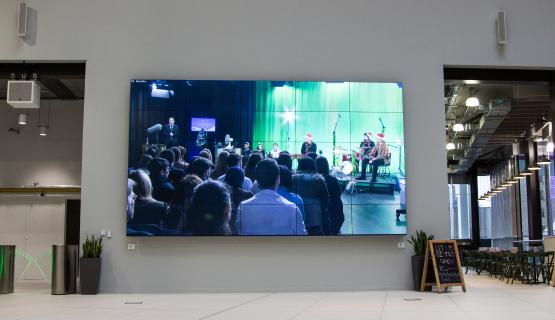 This year's Audio Engineering Society (AES) Scotland Christmas lecture is being hosted by City of Glasgow College in its new state of the art City Campus TV studio and will be broadcast from there on Wednesday 14 December.
The broadcast, streaming live on YouTube, will involve college students gaining valuable production experience working alongside BBC Scotland professional technicians. The 2016 event focuses on the 'The Magic of TV sound'.
George Muir, City of Glasgow College Lecturer said it was a real honour to be the first Scottish College to host the event, adding:
"We're delighted to host this prestigious event. It will also be the first live programme broadcast from our brand new TV studio and our degree students are very excited at the chance of working alongside professionals. It will give them real hands on experience of what will be expected of them working in the broadcast industry so it's a fantastic opportunity."
David Moore, Chair of AES in Scotland said:
"We're really looking forward to seeing the great facilities that City of Glasgow College has to offer and hopefully pass on a few tricks of the trade to the students involved. As TV sound engineers, our job is to make sure the sound is as perfect as possible as it does not always get the same attention as picture quality.
"In the lecture we will share some of the professional techniques used by specialist sound engineers to ensure viewers receive a high quality immersive experience of moving images. So next time you watch your favourite TV programme you will better understand the techniques used and creative challenges involved in sound engineering."
A number of schools are attending as well as representatives from the AES and BBC.
The AES is an international organisation dedicated to audio engineering. Established for over 60 years, it provides the industry with a framework and forum for the advancement of the science and art of audio.
An academic society, it publishes research, encourages co-operation on best practice and publishes technical information through publications and conferences.
The UK has the largest AES section outside the US, with over nine hundred members whose activities include free lectures throughout the country, a monthly newsletter, an annual conference and technical tours of museums, companies and installations.