Super Chef in the running for Educator of the Year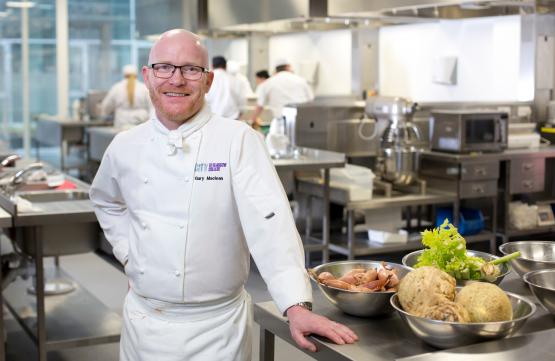 City of Glasgow College chef lecturer, Gary MacLean, has been shortlisted for the 2017 CIS Excellence Awards Hospitality Educator of the Year.
The current MasterChef: The Professionals 2016 champion is up against colleagues from Dumfries and Galloway College and Scotland's Rural College for the title.
Gary has been nominated for this award previously and is looking forward to this year's ceremony. He said:
"It is both humbling and a privilege to be nominated for this particular award and to make the shortlist once more. I see this very much as a team achievement and am delighted that the work we do with our students to ensure their future success is being recognised in this way."
The Educator of the Year Award puts learning and skills development at the top of their list of priorities, and identifies the person who demonstrates a palpable passion and commitment to their students.
Willie McCurrach, Curriculum Head for Food at City of Glasgow College, said:
"Gary's nomination is very well deserved. We know he is an extremely talented chef but first and foremost he is a highly respected lecturer whose students enjoy and benefit from his innovative teaching and cooking techniques. Our fingers are well and truly crossed and we wish him all the best."
The CIS Excellence Awards 2017 take place at the Glasgow Hilton on Thursday 25 May.