Super College celebrates Student Achievements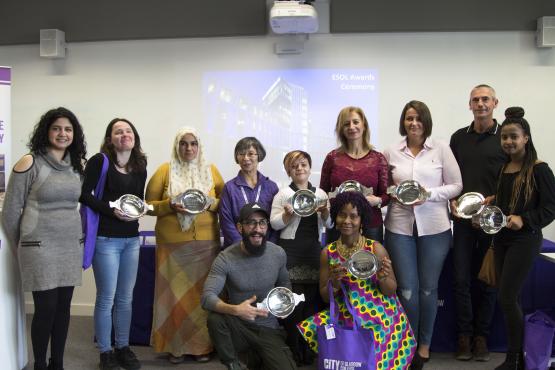 ESOL Awards Ceremony October 2017
City of Glasgow College has celebrated the achievements of its ESOL (English for Speakers of Other Languages) students for 2016/17.
The award winners come from countries across the globe including: Sierra Leone, Libya, Hong Kong, Iran, Lebanon, Poland, Domenico, Italy and the Czech Republic.
The Awards for Outstanding Achievement were presented by Roza Sahil, one of the founding members of the Glasgow Girls.
Mary McManus, Curriculum Head for ESOL 1, said:
"Our awards ceremony is wonderful opportunity to celebrate the hard work and endeavour of all ESOL students and for these individuals in particular. Each year staff have the difficult task of singling out one outstanding student at each level but this year's award winners have surpassed all expectations. Some have come through very difficult and trying circumstances to reach their goal of becoming more confident in their English and in their lives."
Lecturer, Emily Bryson, nominated Feriale Nasr from Lebanon, and explained:
"Feriale has 36 hours in her day. She has six children, attends a jewellery making class, is active in her church and still managed to have the best attendance record. When her class took part in the annual Reading Ahead challenge, Feriale completed her six books in record time. She was the "go to" student for her peers and was elected class rep."
City of Glasgow College has over 1400 students from 80 different countries attending its ESOL classes with a large number going on to study HNC and HND courses within the college, or to attend university.
Family, friends and members of staff attended the awards ceremony that took place recently at the college's City campus and which was supported by Food, Events, Media, and Design Craft students.