Super College on course for Best Building in Scotland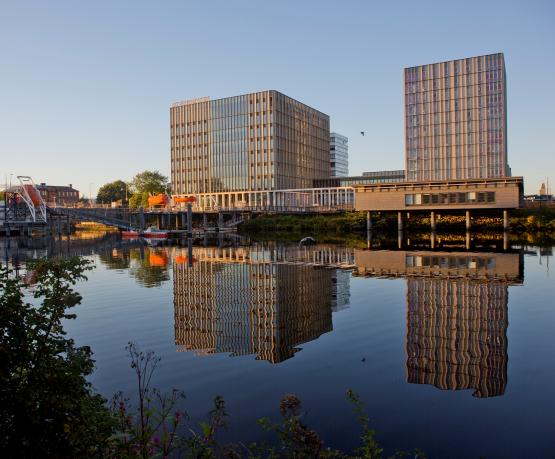 City of Glasgow College - Award Winning Riverside Campus
City of Glasgow College's Riverside Campus has claimed yet another two architectural awards bringing their tally to a grand total of nine since the building opened just last August.
The RIBA Awards and the RIAS Awards are major Scottish architectural awards and are presented for best current Scottish architecture.
Principal and Chief Executive of City of Glasgow College, Paul Little, said:
"This further recognition is of great significance and it is wonderful that our amazing super college campus joins the elite in architecture across Scotland.
"To pick up so many prizes in such a short space of time underlines what we, and the 5,000 visitors to Riverside so far, know; that we have a world class campus which is an inspiring place to work and learn in, and which absolutely has the wow factor."
Receiving an RIAS Award entitles City of Glasgow College's Riverside building to join the shortlist for the Andrew Doolan Best Building in Scotland Award. The RIBA Award also puts the building in the running to be shortlisted for the Stirling Prize which is the UK's most prestigious architecture reward, given to the best building in the UK.
Reiach and Hall Architects' Director, Lyle Chrystie, said:
"On behalf of Reiach and Hall / Michael Laird Architects, we are delighted to receive both an RIAS Award and a RIBA National Award for The Riverside Campus. It feeds the soul when a project that has been in our teams' minds and hearts for so many years is recognised at this level by our peers.
"The positive out-turn of the project has only been possible because of a genuine collaborative effort among the client group, Sir Robert McAlpine as main contractor, the many sub-contractors and the consultant team, with everyone contributing in a positive and meaningful way. In particular we would like to thank Janis Carson and Iain Marley from City of Glasgow College for their drive, commitment and rigour."
Michael Laird Architects and Reiach and Hall Architect's joint venture conceived and designed Riverside through a combination of ideas about the city and the student experience.
The Royal Incorporation of Architects described Riverside campus as "located at the edge of a major crossing of the River Clyde, the site marks a gateway in the city and projects the College's importance as a civic institution as well as creating a new landmark."
The awards were presented at a dinner held in Glasgow on Wednesday 15 June.