Super College creates time capsule for future students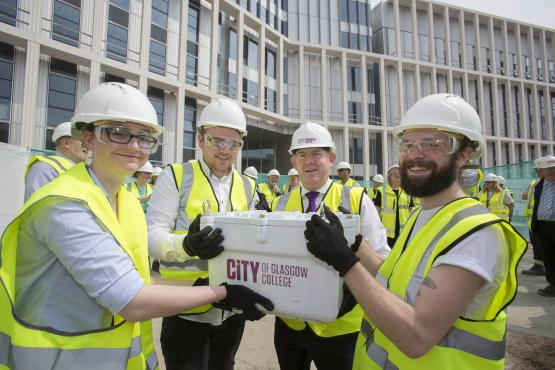 Left to Right – HND Product Design students: Hannah Dunn, David McFarlane and Fraser McPhee; Principal and Chief Executive Officer, Paul Little
City of Glasgow College has today, Tuesday 7 June, marked a milestone in the development of its twin site super campus.
A time capsule has been buried under the entrance to the college's new City campus on Cathedral Street. With a lifespan of at least 50 years, a debossed stone marks the spot for a future generation of students and staff to uncover.
The 12mm thick, 22 kilo hermetically sealed container was researched and designed by HND Product Design students. Its contents highlight the college's history, growth and changes over the years. Among the items concealed for posterity are two letters; one from the current Principal, Paul Little to the Principal of 2066, and one from John Swinney, Deputy First Minister of Scotland, and Cabinet Secretary for Education and Skills.
Also enclosed are items reflecting the legacy colleges including Corporation of Glasgow Education Committee Handbook from 1932, Charles Oakley Papers from September 1990, and a students' magazine from 1977 priced just 10p.
City of Glasgow College Principal and CEO, Paul Little, said:
"In burying our City of Glasgow College DNA, I hope that the excitement we feel today with the construction of our super college will be matched by those who unearth the capsule in 2066 or beyond.
"By then an estimated six million students will have passed through the doors of our twin site campus and our next generation college will be renowned as a game changer, responsible for redefining a new era of tertiary education. I sincerely hope that our hard work today will have delivered an educational hotspot and skills powerhouse for Glasgow which is the envy of the world in 2066."
Janis Carson, Vice Principal, and Project Sponsor for the super campus development, said:
"This marks a significant stage in the construction of City campus. The time capsule is a gift from City of Glasgow College to the staff and students of the year 2066. Its contents are a personal record of a shared history, offering a glimpse into the hopes, dreams and ambitions for our future and their present.
"This was a 'live' project for our Product Design students who responded impressively to a challenging specification for a capsule which will stand the test of time. Designing the capsule and identifying its contents gave our students the chance to play an active role in the development of City campus and contribute to its legacy."
Today's ceremony at City campus follows the burial of a similar time capsule at Riverside campus to mark its construction. Its contents included interviews with members of staff and footage of the campus being constructed.