Super College dominates at 2016 Craftex Awards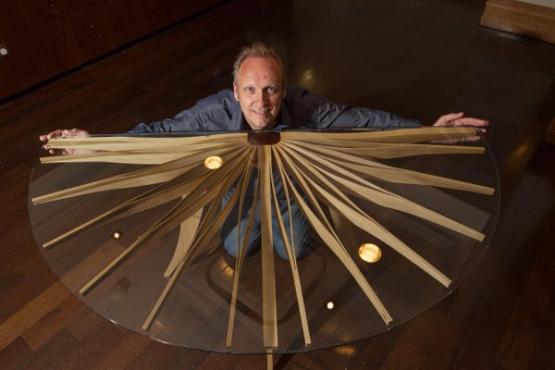 Craftex 2016 Gold Medal and Overall Winner, Stuart Campbell
City of Glasgow College enjoyed another outstanding performance at this year's Craftex Awards winning 30 of the 53 categories.
The Trades House of Glasgow gold medal and overall winner went to Stuart Campbell, HND Furniture Craftsmanship & Design student, for his beautiful half-moon glass and wood table.
New for this year was a special Award for Excellence & Innovation, sponsored by Quilter Cheviot, which was won by City of Glasgow College student, Alan Loach, for his 3D sculpture 'Blythswood to the Barras', part of his third year BA Contemporary Art Practice course.
City of Glasgow College Principal and Chief Executive, Paul Little, said:
"Being top of Craftex medal table yet again is a great achievement for our very talented students and their dedicated teachers. A huge amount of effort goes into preparing our students for this important competition. To win almost two thirds of the categories available is just magnificent and reflects the hard work and commitment of all those taking part. Congratulations to everyone involved."
Barbara Aitkenhead, Curriculum Head, Design & Drama, said:
"We are proud to be invited to take part in Craftex each year and absolutely thrilled at the quality and quantity of our prize winning haul. We have a great team of very hard working staff and students, all of whom really value this important recognition."
Another City of Glasgow College entry was the City Campus Time Capsule, designed by HND Product Design students, which was buried this week for posterity and future generations of staff and students to uncover.
Now in its 21st year, the annual Craftex competition and its associated exhibition is a showcase for the very best of students' work from the city's colleges. Click here for a full list of all this year's winners.