Super College encourages Women into Engineering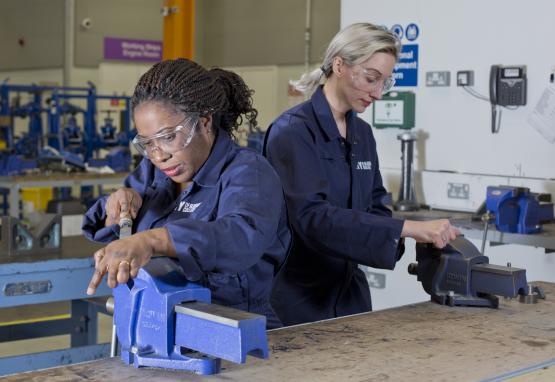 Over 100 female pupils and their teachers from 15 schools across Glasgow attended City of Glasgow College's recent Women-into-Engineering event.
Leading figures from industry, academia and business took part in the event designed to inspire more women to pursue studies and careers in engineering. Diane Drummond, Director at B-DACs Air Conditioning Services, Dr Kirsty Ross, Outreach Officer at Strathclyde University's Technical Innovation Unit, and Debbie Mitchell, Process Engineer with Viridor, all gave presentations.
Husnaa Farooq from St Paul's High School really enjoyed taking part in some of the hands-on activities, and said:
"I learned a lot from Laura and Bumni who are engineering students at the college but all the speakers were really interesting. Getting the chance to try the different activities was good fun and seeing round the college was great, its facilities are amazing."
Principal and Chief Executive of City of Glasgow College, Paul Little, said:
"Our aim at City of Glasgow College is to create an essential talent pipeline from education to employment. Our women into engineering classes, which are the first of their kind in Scotland, have been widely welcomed by industry and, together with events like this, they highlight STEM opportunities available to young women and will undoubtedly increase the numbers entering STEM related professions."
Linzi Shearer, STEM Development Manager at the College, explained that this was the third year the event was run:
"There is a real appetite from the students who come to these events which have proven to be a great success so we are making them an annual fixture. Our ultimate goal is to inspire school pupils to choose to study engineering and this type of open day gives them an insight into different areas of the industry and what is possible."
The day's activities included building and testing CityBytes microcomputer boards and Lego robots, welding, bridge building and gaining first-hand experience of the shipping simulation suite, ships engine and mechanical workshop at the college's Riverside Campus."