Super College provides inspiration for winning design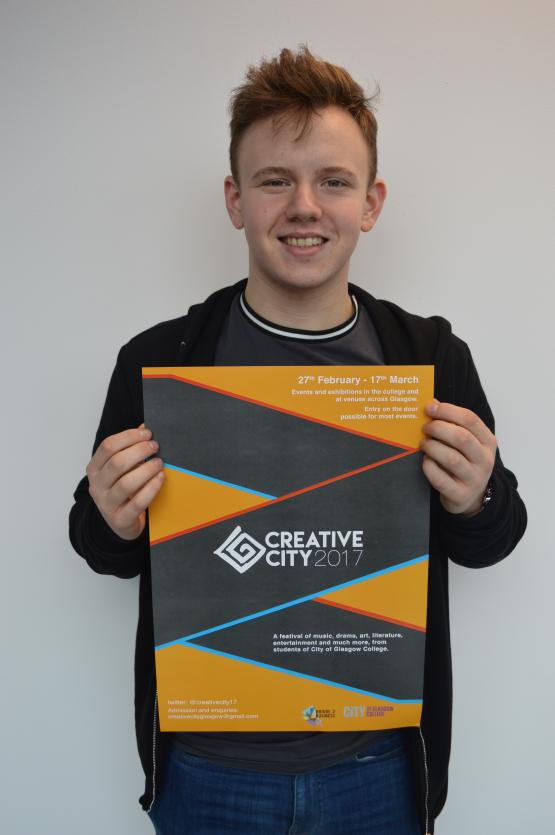 A City of Glasgow College student has drawn inspiration from the College's stunning super campus to create his first piece of commissioned work.
Jonathan Gilbride, who is studying HND Graphic Design, won a college competition to design the logo for posters and brochures publicising Creative City 2017.
Nineteen-year-old Jonathan, who lives in Glasgow's Merchant City, said:
"I took my inspiration from the college itself. With the super campus being the only one in Scotland, I wanted to display how the facility is now a beacon for employers seeking the next generation of design students.
"My long term goal is to get a degree in graphic design and make a career in the industry. This will be the first piece of my work which people will be able to view, so I'm looking forward to seeing how they react to it."
Creative City runs for three weeks from Monday 27 February and will feature a series of public events and exhibitions which will showcase the work of students. This year, the vast programme includes live music, a football tournament, literary performances, drama productions and even a murder mystery evening. Events will take place both in the college and at external venues across Glasgow.
John Clarke, a Senior Media Lecturer at City of Glasgow College who is organising Creative City, said:
"We decided to hold a competition to find an up-and-coming designer to create a logo for the Creative City poster and brochure as we felt this was a great opportunity for one of our students to gain experience of working to a brief for a real client.
"Jonathan was chosen as the winner and will, as a result, gain a great deal of exposure for his work. We're looking forward to launching Creative City for the third consecutive year and would encourage all City of Glasgow College students, staff and members of the public to all come along."