Super College in running for Top UK Education Awards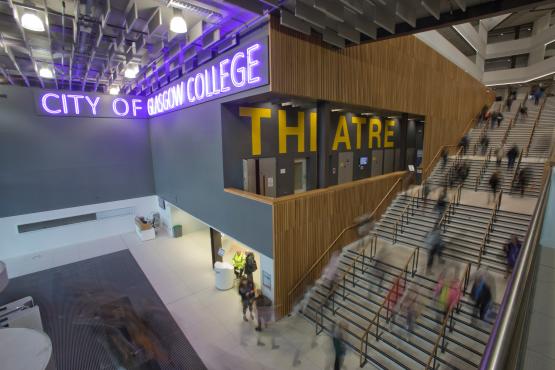 City of Glasgow College has been shortlisted for three top TES FE Awards 2018.
Principal and Chief Executive, Paul Little, has been shortlisted for FE Leader of the Year in recognition of his leadership of Scotland's largest college which has had an immediate impact on the city of Glasgow but is also shaping the future of skills delivery in Scotland and informing developments across the UK.
The college is also in the finals for Employer Engagement for its partnership with the Building Contractors Training Group set up to tackle the skills gap in construction; and for the Apprenticeship Programme of the Year where its maritime apprenticeship with Caledonian MacBrayne will see all maritime, STCW and hospitality training delivered under one roof at City of Glasgow College.
Principal Paul Little said:
"I am delighted that our college has been shortlisted in three categories for these prestigious further education awards. I am personally honoured to be considered for FE Leader of the Year as this recognises the tremendous support our college staff and students receive from all our partners and our Board.
"The continued success of City of Glasgow College is very much a 'Team City' effort. I am extremely proud to lead such an outstanding team who strive to deliver new ways of working and higher standards of excellence for our students on a daily basis."
A record number of nominations were received for the awards with colleges, training providers, teams and individual staff members submitting more than 440 entries across 17 categories – an increase of almost a quarter from last year.
The winners of the TES FE Awards 2018 will be announced on Friday 23 February 2018 at an awards ceremony to be held in Grosvenor House Hotel in London.