Super College student makes Exhibition History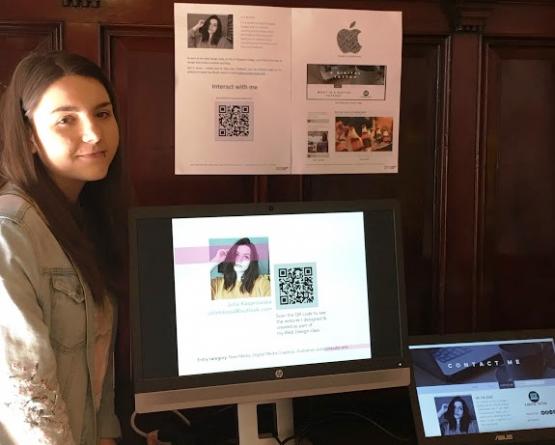 A City of Glasgow College student has made history by being the first person ever to have a website featured in the prestigious CRAFTEX competition.
Julia Kasprowksa, who is studying on the Super College's HNC Administration with Digital Communication course, is also the first student from the Business Department to have her work on display in the exhibition which runs from Thursday 7 June to Saturday 9 June in Glasgow's Trades House.
The annual CRAFTEX competition features the best creative work from across all of Glasgow's colleges and allows many of the talented students of the city an opportunity to demonstrate their skills to a large audience.
Julia's website provides its visitors with information on the concept of a 'Digital Tattoo', the imprint left by internet users that shows what they have been doing online, in an eye-catching and modern way.
Commenting, Julia Kasprowska, said: "It's great to be part of the CRAFTEX competition and to have my work displayed alongside creative industries students from across Glasgow.
"To have the first ever website entered into the contest and also to be the first Business Department student here is also something of which I'm really proud."
CRAFTEX not only offers financial prizes for the winning entries but also allows its entrants to display their creations in a well-attended exhibit that is free to enter for the public.
City of Glasgow College Administration lecturer, Angela Bayne, said: "All of us in the Business Department are very proud of Julia for the new ground she has broken in the competition.
"The standards expected at CRAFTEX are incredibly high and Julia should be very proud of herself for her achievement."