Super College Supports Financiers of the Future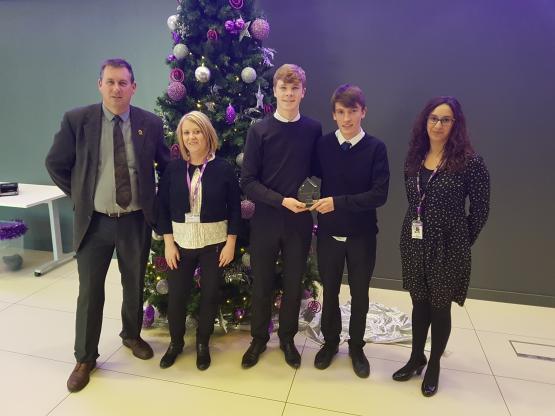 Lanarkshire Winners. L-Rt: Clive Gibb (Brannock High School), Karen Blair (First Direct), winners David Taylor and Jamie Wiper (Brannock High School) with Maddy Coats (City of Glasgow College)
Three schools crowned winners thanks to investment knowhow
Financial knowledge, quick decision making, and good teamwork have helped three schools win a competition – supported by City of Glasgow College – which challenges pupils to show their investment skills.
Madras College, Brannock High School and Gleniffer High School were the winners of the Investment Challenge. The schools worked in teams to grow a virtual investment fund, making decisions on what to buy and sell based on their own research and incoming news stories.
City of Glasgow College Principal and CEO Paul Little said:
"We're delighted to support this innovative competition and congratulations to the winning schools. Not only does it provide an opportunity to highlight the many career and training options available in the financial services arena, it also shows the huge interest and talent there is among students in our local schools."
Nine schools beat 52 others to reach three regional finals giving them the chance to pit their investment wits against each other whilst also hearing more about careers in the financial services industry.
Stephen Forbes, PT Business and Computing at Madras College, said: "The Challenge has helped my students improve their communication and analytical skills – both essential for their employability."
Chloe Divers, PT Business Studies and Administration at Brannock High School, said: "What a fantastic challenge! It gave my students an opportunity to demonstrate their initiative, team-working and problem-solving skills under the pressure of competition."
Alice Dowd, Business Studies Teacher at Gleniffer High School, said: "The competition is an excellent opportunity for teamwork and has given my students a realistic insight into an area of the financial sector not normally covered."
1,500 students took part in the competition using the online business simulation Finance Lab, with volunteers from BNP Paribas Securities Services and first direct visiting schools to meet teachers and students and talk about opportunities in the sector.
Mark Daisley, Head of UK Operations, BNP Paribas Securities Services, said: "This competition gives us the opportunity to promote the rich variety of careers the financial services sector has to offer. For this reason we are proud to be a part of the Investment Challenge and to welcome the schools taking part. We'd like to congratulate the winning schools in our regions, Madras College and Gleniffer High School for such an impressive performance."
Joe Gordon, Head of first direct, said: "As a major local employer, we are focused on forging and maintaining strong links with schools and communities in Lanarkshire. The Investment Challenge helps us develop those links, with Brannock High School doing extremely well to finish top in a closely-fought competition in our region."
The competition supports the Developing the Young Workforce strategy and forms part of SDS's newly-refreshed Skills Investment Plan for Scotland's Financial Services sector, which features themes including attracting new talent.
Ian Hanson, Key Sector Manager for Financial Services at SDS, said: "The hard work and competitiveness of the schools taking part in the Investment Challenge has been matched by the enthusiasm of BNP Paribas and first direct in supporting the competition.
"It is this close link with the financial services industry which gives the competition real value, and congratulations go to the three winning schools who have learned so much from their participation."

For further information, please visit the Investment Challenge website
www.stockmarketchallenge.co.uk/competition/investment-challenges/scotland
…and the Global Investor website to see the Finance Lab simulation used in the competition.
www.globalinvestorsims.com