Super College wins Legacy Award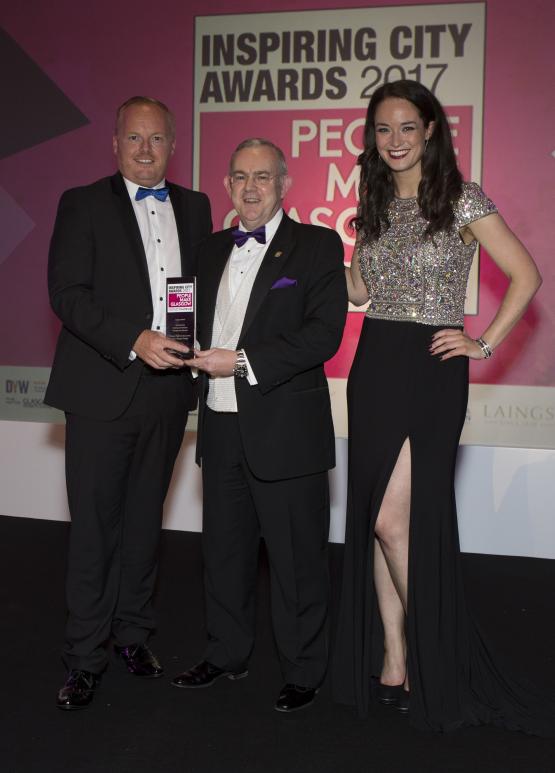 City of Glasgow College and its Principal and Chief Executive, Paul Little, have been honoured with one of the top accolades at this year's Inspiring City Awards.
Principal Little accepted the prestigious Legacy Award in recognition of the work he has done in delivering the new City of Glasgow College twin site super campus and the College awarded overall for boosting social mobility and providing unrivalled access to further and higher education for all.
Principal Little said he was delighted with the Award:
"Winning the Legacy category is an outstanding achievement and I'm delighted on behalf of our 'Team City' that our college has been recognised in this way. There really is nowhere else quite like it!"
"I have always said that our campuses are more than iconic buildings - they are inspirational learning environments on a global scale which contribute both economically and architecturally to the city and indeed Scotland. Importantly they are making a huge difference to the employment prospects of our students - and our college is designed for 40,000.
The multi-million pound development was praised for its state of the art award winning buildings and accessible and innovative learning and teaching practices.
The Inspiring City awards, in association with People Make Glasgow, paid tribute to the people and businesses who make the city great. Principal Little shared the spotlight with Sir Billy Connolly who was given the Lifetime Achievement Award and Sir Andy Murray who received the Inspiration Award.
Over 450 guests gathered at the DoubleTree by Hilton, Glasgow for an awards ceremony organised in conjunction with The Herald and Glasgow Chamber of Commerce.
Councillor Susan Aitken, leader of Glasgow City Council, said:
"In its milestone fifth year, the Inspiring City Awards showed, once again, that Glasgow is creative, innovative and a city that cares.
"There are some truly remarkable individuals, businesses, charities and organisations that are working tirelessly, every day, to improve the lives of our people and the reputation of our great city."
The awards attracted an astounding number of entries, and the calibre for this year was outstanding, with the judges praising the number of people and businesses that have gone the extra mile to make such a difference to people's lives across a variety of sectors, including, sport, business, art and culture, community and the environment.