Supporting Business Innovation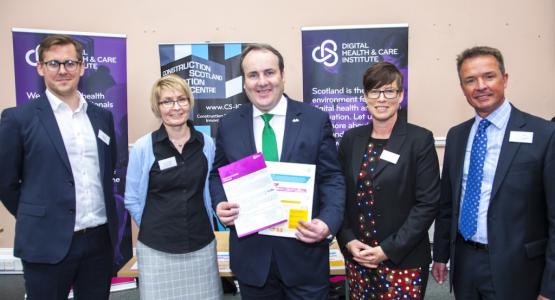 City of Glasgow College is to be a Tier 1 partner in an important pilot project that will explore a range of ways that colleges and Scotland's innovation centres can work together to support business innovation.
Construction Scotland Innovation Centre (CSIC) and the Digital Health and Care Institute (DHI) have launched FUTUREquipped, which will see four of Scotland's innovation centres and 13 colleges collaborating directly with industry to upgrade and future-proof skills training and workforce development in the key areas of construction and engineering, health and care, and information technology.
The programme is the flagship project being funded by the new £500,000 College Innovation Fund launched earlier this year by Paul Wheelhouse, Minister for Business, Innovation and Energy.
The project consists of two consecutive and one parallel workstream:
Workstream 1: Upskilling college lecturers in emerging innovations;
Workstream 2: Exposing college students to innovation and emerging technologies in the real world of work (follows WS 1);
Workstream 3: Directly facilitating innovation and growth by supporting selected collaboration projects between colleges and businesses (runs in parallel to WS1 and WS2).
Workstream 1 will begin in August, when four City of Glasgow College lecturers will join a further 23 lecturers from 13 colleges to spend five days together on an innovation learning programme. This is designed to upskill and support them in training future workforces in terms of skills and capabilities needed to work in environments encompassing emerging innovations and technologies.
Principal Paul Little said: "I'm delighted that our College is supporting the design and delivery of this pilot project.
"Inspiration, Excellence and Innovation are at the heart of all that we deliver for our students and with demand for digitally skilled professionals growing inexorably, it is vital as educators that we stay alert to this and to develop the full panoply of skills necessary for this fast paced information era."
Participants will be introduced to the latest developments in digitally enabled health and care, and construction practices through the medium of smart housing. They will attend several site visits and be asked to collaboratively develop new teaching modules to integrate their learnings from the pilot into the respective college courses.
Co-designed and led by CSIC and DHI, with support from The Data Lab and CENSIS, the programme will embed practical approaches to workforce training and collaboration with industry. It will focus on technology-enabled health and care, augmented/virtual reality design and build, advanced construction and offsite technologies, and sensor technology and data through the joint medium of Smart Housing that brings these domains together.
CSIC and DHI will be the hubs for delivering the programme. Rohan Bush, Head of Public Partnerships and Future Workforce at CSIC said: "We're honoured to be hosting the programme, which represents a world-class opportunity for Scotland to integrate and future-proof all three key contributors to progress, which are skills training, workforce development and industry integration."
Professor George Crooks, Chief Executive Officer at the Digital Health & Care Institute, added: "By building relationships with the college staff, the Innovation Centres can better understand how to build further meaningful collaborations that can help shape the future where people can live longer, healthier lives at home and in their own communities, feeling safe, supported and valued."
"Dr Stuart Fancey, director of research and innovation at the Scottish Funding Council, commented: "FUTUREquipped is bringing together colleges, businesses and innovation centres in really exciting ways…..and I believe it will be a springboard for many other ground-breaking initiatives in the future."