UK Chefs single out City of Glasgow for Excellence in Education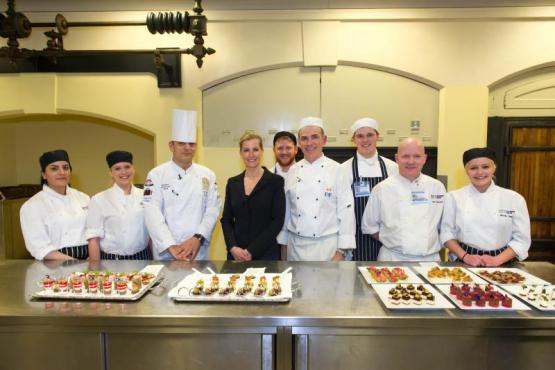 City of Glasgow College has been given a special industry award in recognition of its excellence in training the top chefs of tomorrow. The college earned praise from the Craft Guild of Chefs, the UK's leading chefs' association, for its many achievements during the last 12 months, including the success of students at a canapé competition at Buckingham Palace and one of its staff chefs being named the best in Britain.
The fact that City of Glasgow College provides kitchen facilities and management to stage practical heats of the renowned international skills competition WorldSkills also weighed in its favour with the awards panel.
Principal and CEO of City of Glasgow College, Paul Little, said: "It is indeed an honour to be recognised by such a prestigious body as the Craft Guild of Chefs. This award reflects our continued commitment to excellence in our teaching and learning and further confirmation of our status as the number one college in the UK for WorldSkills. It is also rewarding to see our very talented team in hospitality and catering being recognised among the very best in the industry."
City of Glasgow College is the only institution in Scotland to receive the honour which has been bestowed just a matter of months before the completion of its new £228million twin-site supercampus. The state-of-the-art City Campus, featuring world-class facilities from hospitality and catering, to construction and drama, will open to students and staff in August 2016 and complements Riverside Campus, Scotland's leading training centre for engineering and marine studies.
At the 2015 Craft Guild of Chefs awards City of Glasgow College senior staff member Gary Maclean was named UK Lecturer of the Year after leading a student team to victory in a canapé competition at Buckingham Palace. After impressing a judging panel including HRH The Countess of Wessex and royal chef Mark Flanagan, the team went on to prepare finger food for esteemed guests at St James's Palace to celebrate the 50th anniversary of the Craft Guild of Chefs.
Student Mikaela Wright flew the flag for City of Glasgow College as part of Team UK at the WorldSkills 2015 finals in Sao Paulo, Brazil. The 20-year-old Patisserie student competed alongside entrants from 59 different countries in front of 250,000 spectators and emerged with a Medallion of Excellence. City of Glasgow College is now one of the top five most successful UK institutions in the global competition.
Established in 1965, the Craft Guild of Chefs aims to increase standards of professional cooking through greater awareness, education and training.