Vietnam benefits from Scotland's social security system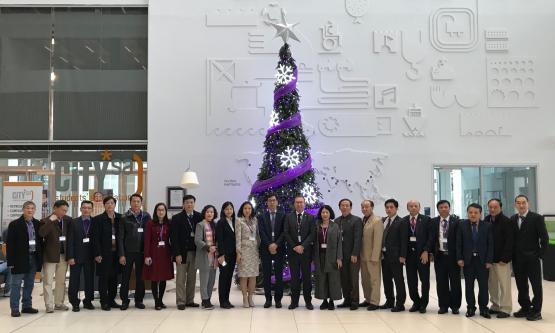 Vietnamese government officials spent almost two weeks at City of Glasgow College as part of a training exercise to learn about Scotland's social security system.
The group's aim was to understand the system's strategies and approaches and how service users access information.
Carla Murray, Associate Director Business & International Partnerships at City of Glasgow College, said:
"We are developing valuable partnerships with international Vocational Education Institutions and were delighted to welcome what is our second government delegation from Vietnam.
"The senior ministerial delegation took part in a programme of workshops, seminars and industry visits offering a comprehensive overview of the social security framework in Scotland and the UK. Delegates also had the opportunity to engage in workshops focussing on approaches to data management, data supervision and the building of capability and resources in social security systems such as those currently in place within Scotland. This Visit will be used by Ministers to inform the Vietnamese Social Security System."
The training programme was organised by the college's Faculty of Education & Society and run in partnership with the Environment Economic Development Study Institute (EDI). It included an overview on policy and legislation devolved to Scotland by Deputy Director, Social Security Policy Division, Ann McVie, an outline of policy and legislation at UK level, and tackled the challenges and opportunities within the Vietnamese social security system.
Scotland's new social security agency launched recently after 11 social security powers, including disability living allowance, personal independence payments, carer's allowance and winter fuel payments, were devolved as part of the 2016 Scotland Act. It is expected to be fully operational by 2021.
If you think your team(s) would benefit from a teacher training programme then please contact Stuart McDowall, Partnership Development & Academy Manager at City of Glasgow College.
If you wish to know more about our college's international partnerships, please visit our webpage.