Warriors Convert Partnership with Newlands Junior College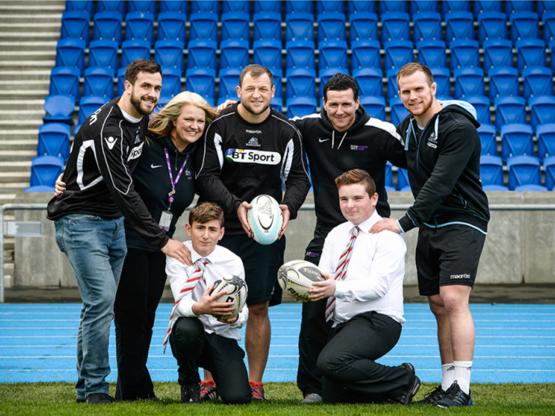 Warriors Convert Partnership with Newlands Junior College
An impressive front-row partnership between Newlands Junior College, Glasgow Warriors and City of Glasgow College has been formed to offer a bespoke course in Sports and Recreation.
Each season, a squad of lucky pupils at the college will receive coaching from Warriors' stars such as former captain Al Kellock, who will prop up tutors from City of Glasgow College.
Running across the academic year, the course is divided into four units – tackling fitness, training routines, employment opportunities and the hands-on operation of a leisure centre.
Onto their scoresheets, pupils will gain a National 5 in Sports and Recreation that will allow them to follow a career in this field, helping them find an apprenticeship or go on to further study at City of Glasgow College.
They will also have full access to the leisure centre at Scotstoun while enrolled on the course.
Set up by Jim McColl, NJC delivers a new form of education involving alternative programs, aimed at youngsters aged 14 to 16 years old who find the current secondary school system does not suit their learning style or goals.
Each year, NJC is recruiting 30 pupils from local schools and putting them through an alternative approach to their education in years S3 and S4 which, in addition to academic subjects, will combine vocational and motivational training with sports, nutrition and outdoor activities.
As a result, the NJC approach will increase the enthusiasm, skills and confidence of students, greatly enhancing their ability to make the successful transition beyond school to reach their full potential.
Jim McColl, Chairman of the board of Trustees at Newlands Junior College, said: "Newlands Junior College has entered into a unique partnership between education and sport which will be extremely rewarding for our pupils.
"Getting the chance to work alongside players from Glasgow Warriors will be a fantastic experience, helping to promote the benefits of health, fitness and training.
"We're incredibly grateful to the club for getting involved and we look forward to developing the course with the aim of creating an SQA accredited equalisation.
"Partnerships such as these present many fantastic opportunities for pupils of Newlands Junior College, aligning well with the ethos behind the college."
This season Glasgow Warriors are defending their GUINNESS PRO12 title and will also be competing in the European Rugby Champions Cup.
Scottish Rugby Ambassador Al Kellock said: "We're very excited about entering into this partnership with Newland's Junior College, which gives us an opportunity to work closely with these young people on our doorstep.
"Not only can we assist them with coaching, but we can also show them how our values can help benefit them.
"We got involved in this project through Alex Stewart, who is in our Business Club, and it's great to see him and Jim McColl heavily involved, through their company Clyde Blowers.
"It's an exceptional programme and a fantastic concept, which ties in closely with our Game On project, which helps young people progress into positive pathways."
Each of the pupils who successfully complete Newlands Junior College's two-year programme will be guaranteed an apprenticeship place or a college place provided by an industrial or educational partner.
The course is delivered with the support of City of Glasgow College.
Paul Little, Principal at City of Glasgow College said "we are delighted to be working in partnership with Newlands Junior College and Glasgow Warriors to deliver a high quality sport and recreation programme inspiring all pupils to succeed."
"We recognise the importance of vocational education in developing the skills, attitudes and behaviours valued by employers and the educational benefits of sport should not be underestimated. Sport has a key role to play in the development of transferable skills and values such as respect, honesty and teamwork"
"City of Glasgow College offers world class facilities within our dual campus which will be completed in the summer of 2016. As a College that is re-defining education it is fitting that we are working in partnership with Newlands Junior College who offer an alternative approach to learning."
For more information about Newlands Junior College.