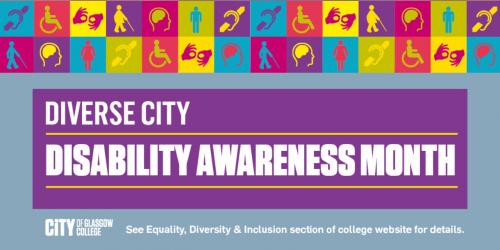 Because we're committed to disability equality, if you need reasonable adjustments to participate in college life we'll do all we can to meet your requirements.
We're proud to promote the Social Model of Disability, which suggests that society creates attitudinal, institutional, and environmental disabling barriers for people with impairments. We follow their positive approach to disability and focus instead on removing barriers to equality.
Disability Awareness Month
December is Disability Awareness Month in the College, incorporating World AIDS Day on 1st December, International Day of Persons with Disabilities on 3rd December and Human Rights Day on 10th December.
Despite equality in the law and some improvements in societal attitudes, disabled people are still disadvantaged in many aspects of their lives, being more likely to be the victims of crime, more likely to earn a low wage or be out of work, and less likely to gain qualifications than non-disabled people.
Answers to our table-topper quiz questions
1. Disabled people are more than twice as likely as non-disabled people to have no qualifications. True or false?
True. Read more at Scottish Government and Disability. 
2. By the time they are 26 how many times more likely are disabled students to be unemployed as compared to their non-disabled peers?
Four. Read more about this in our Equality Outcomes.  
3. How much more are living costs per month if you are disabled? 
Life costs you £550 more on average a month if you're disabled. Read more on the Scope website.
DisabledGo Access Guides
DisabledGo have conducted detailed access assessments of all our buildings and the majority of our support services. Relevant guides were then published online, giving users plenty of info about their particular needs. For these access guides and further details, please visit the DisabledGo website:
Useful Links
Further information
Any questions? Please call our Equality, Diversity & Inclusion team on 0141 375 5401/5402, or email us at:
edi@cityofglasgowcollege.ac.uk.