What is WorldSkills UK?
A world of opportunities and chances to succeed
WorldSkills UK Competitions bring together apprentices and young people from across the country to compete to be the best in their chosen skill. High-level employability skills that employers are crying out for.
They inspire next generations to be ambitious in their pursuit of excellence while equipping them with life-long, world class skills. These talented individuals will be key in helping UK businesses compete on the global stage and raise standards to an international level. Inspiring apprentices to be ambitious in their careers, WorldSkills UK Competitions equip young people with the right skills to help UK businesses compete better globally.
WorldSkills UK Competitions bring together apprentices and students from across the country to compete to be the best in their chosen skill.
Designed by industry experts, the competitions assess an individual's knowledge, practical skills and employability attributes against a set of strict criteria.
Competitions enable apprentices and students to develop world-class skills. They accelerate a person's career by providing a mechanism to develop the 
What do WorldSkills Competitions involve?
Each competition is a series of tests, designed by industry experts, which focus on the highest UK and international standards.
Competitions are designed to test a competitor's knowledge, practical skills and attributes valued by employers including successful completion of tasks set, problem-solving, time management and working under pressure.
Competitors are marked against a rigorous framework that meets the WorldSkills UK quality assurance standards. 
There are over 60 different WorldSkills skills competition taking place each year with competitors aiming to be named the UK Champion in their chosen skill.
Outstanding competitors, aged 18 - 25, who excel in WorldSkills UK Competitions will be invited to compete for a place in the team that represents the UK at WorldSkills; the biennial international skills competition.
Learners and apprentices can register to take part in the Worldskills UK National Competitions from 1 March 2017 (find out how to register your students in the section at the end of this article). 
Latest Announcements
Read the latest announcements from Team UK:
WorldSkills UK Scotland
There will be a reception for Team UK as they prepare to compete at WorldSkills Abu Dhabi 2017. Taking place on Tuesday 10 October at Terrace Pavilion, House of Commons and sponsored by Shadow Skills Minister, Gordon Marsden MP.
The reception will recognise the achievements of the apprentices and learners who are representing the UK at WorldSkills Abu Dhabi 2017. Team UK will be flying out to the UAE the day after the reception and we want to give them a fantastic send-off! 
WorldSkills Abu Dhabi 2017 will see young people from 77 different countries compete for the world title in technical skills. WorldSkills is the world's biggest skills competition and aims to improve the quality, status and attraction of apprenticeships and technical training. The UK will be sending a team of 34 to represent the UK in the full range of skills – from Aircraft Maintenance through to 3D Digital Game Art. 
Team UK will be looking to build on our seventh placed – best ever – finish at the last major international skills competition, WorldSkills Sao Paulo 2015.
Good luck to Team UK's Scotland competitors at WorldSkills Abu Dhabi 2017.
Jordan Charters competing in Painting and Decorating.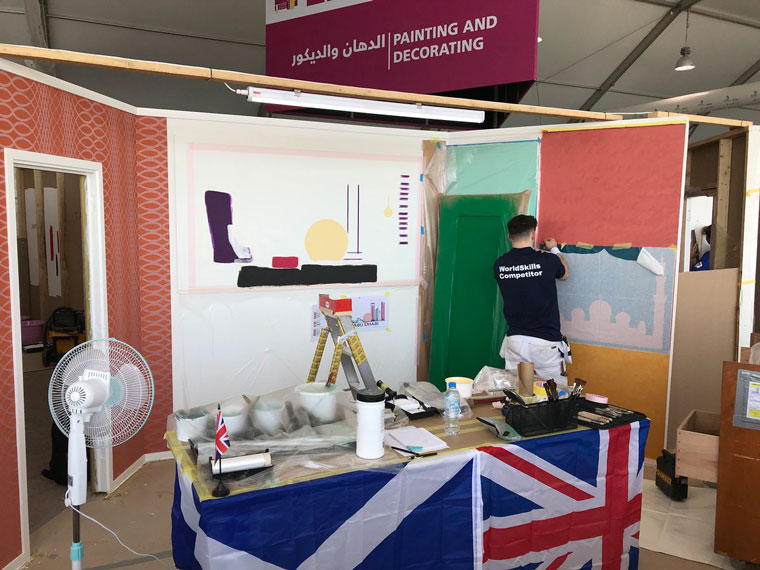 Betsy Crosbie competing in Mechanical Engineering CAD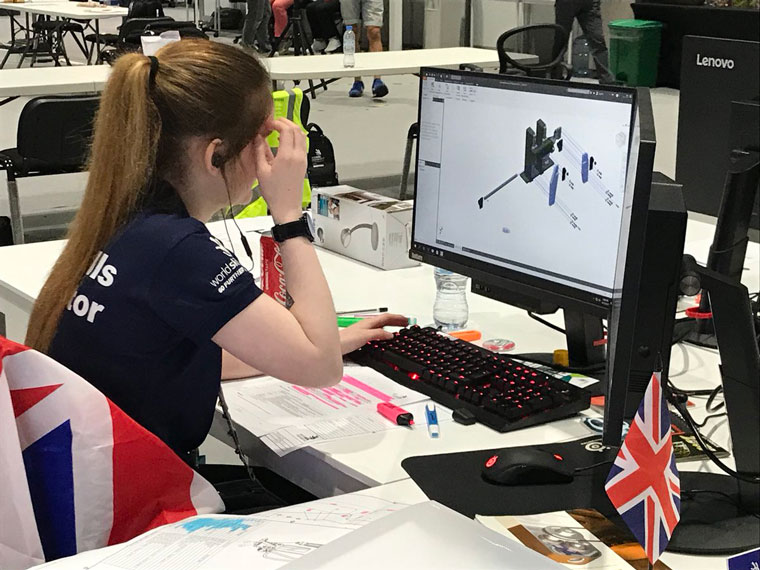 Live Tweets
Further Information
Visit the WorldSkills UK website for more information.
If you require further information regarding WorldSkills UK activities at City of Glasgow College, please contact:
Margaret Darroch
Head of Skills Academy and Development
Telephone: 0141 375 5272
Email: margaret.darroch@cityofglasgowcollege.ac.uk OR stephen.downie@cityofglasgowcollege.ac.uk
Get Involved
For more information about the competitions and how you can get involved, visit the WorldSkills UK website. You can also find out more about our student competitors here.