Super College launches Superyacht Training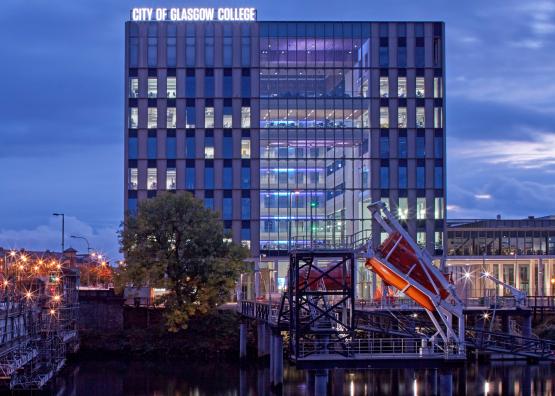 A new route into an exciting sector of the maritime industry has opened up at City of Glasgow College.
In partnership with sportscotland National Watersports Centre Cumbrae and Trinity House, the college is offering professional training courses and an academic qualification providing entry to the superyacht industry.
Superyachts are getting bigger and increasingly more sophisticated, requiring a highly trained professional crew who can cope with the challenges of navigating a ship safely around the world.
Nicola Crawford, Director, Faculty of Nautical Studies at City of Glasgow College, said:
"We are delighted to be working in partnership with both sportscotland and Trinity House to provide a training programme that meets the needs of this specialised industry. It opens up a great opportunity for young people across the UK to access and develop careers at sea even further.
"Superyacht activity in Scotland is increasing year on year. This is from vessels en-route to and from the Mediterranean to the USA and the growing number of yacht owners who see Scotland as a desirable cruising location. It is an exciting time for us and the training will add to the extensive range of professional maritime courses on offer at our Riverside campus."
David Frame, Chief Instructor at sportscotland National Watersports Centre Cumbrae, said:
"We are excited to kick off our partnership with City of Glasgow College delivering courses to support the cadets learning throughout this course. We deliver over 400 courses every year to watersports enthusiasts and instructor training to coaches across the world and we look forward to expanding our remit to future stars of the industry."
The programme will run for three years with class based activity at City of Glasgow College and time at sea organised by Trinity House. The superyacht specific elements will be delivered by the National Watersports Centre in Cumbrae where cadets will develop required skills such as powerboating and tender driving.
Trainees require a minimum of 12 months sea-time with at least two months spent on a superyacht and the remainder gained on passenger ships or other commercial vessels. Training will culminate in the MCA Officer of the Watch Unlimited Certificate of Competency and include all STCW courses and Master and Deck Officer ancillary training.
Students will gain a Scottish Professional Diploma in Marine Operations. This incorporates HND Nautical Science as well as three Professional Development Awards units at SCQF level 9 designed to develop critical thinking and analytical skills.
The course is fully funded with all tuition fees and professional courses paid for. In addition the trainee will receive a training allowance throughout the programme. Prospective candidates should apply directly to sponsoring company Chiltern Maritime.