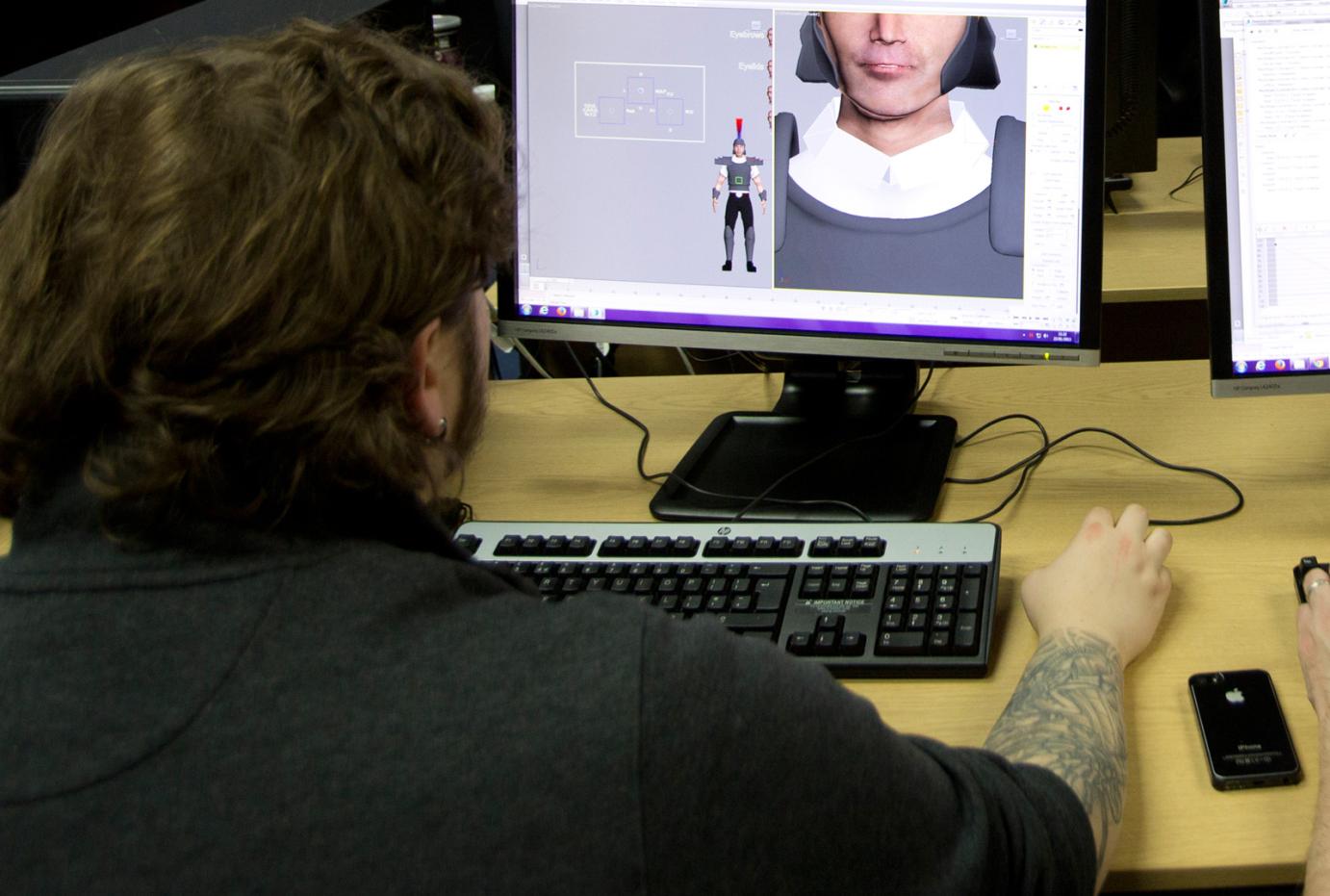 3D Computer Animation HND
(SCQF level 8)
Applied Computing & Digital Technologies, Faculty of Business
Applications closed
Mode of Study
Full-time
Start Date
27th Aug 2018, 2 years
27th Aug 2018, 2 years
Location
City Campus
Applications from International Students Welcome
Overview
This hands-on course helps you develop the skills needed to become a 3D Digital Developer, incorporating live industry related projects in a range of different 3D animation disciplines.
This course is aimed at creative individuals with an interest in video games, 2D/3D animation, film and digital art.
You will develop skills in character animation and modelling, 3D modelling and environments, textures and surfacing, special effects techniques, lighting and camera work. You will learn how to develop your presentation skills and how to produce a portfolio of work.
Learners will be introduced to industry-standard software including 3D Studio Max, Mudbox, After Effects and Photoshop. The course also incorporates 3D printers and VR Headsets into the learning experience.
During our Year 2 programme you will have an opportunity to participate in Glasgow Caledonian University and the University of the West Coast of Scotland affiliation and transition programmes. You will also have an opportunity to compete at Worldskills UK and continue on with the courses excellent track record.
Some students may gain internships and summer placements while studying at the college. This course also accepts year two direct entrants.
The course is placed on the Scottish Credit Qualifications Framework at Level 8. For more information on the framework visit: www.scqf.org.uk/the-framework/.
Entry requirements
Minimum entry requirements
Two Highers at Grade C or above AND three National 5 qualifications at Grade C or above including Computing, Information Systems or Graphic Communications, OR
National Qualification at SCQF level 5 or 6 in a relevant subject such as Digital Media Computing or Computer Arts and Animation.
Other equivalent qualifications or experience.
Additional selection requirements
You'll be invited for a group and/or individual interview, where you'll get the opportunity to find out more about the course and tell us why you're interested in this subject area.
What you study
3D Modelling.
Character Modelling.
Cameras.
Lighting and Special Effects.
Environmental Modelling.
Drawing Skills.
Movement Studies.
Surfaces and Textures.
Showreel/portfolio Creation.
Sound Editing.
Video Editing.
Compositing.
After the course
Careers
Employment in relevant industries.
Continuing Study
Students who complete their HND may progress to:
Abertay University (A30) - Computer Arts (GW42).
University of Dundee (D65) - Animation (W280).
Glasgow Caledonian University (G42) - 3D Animation and Visualisation (2E4W); Computer Games (Art and Animation) (GW4G); Computer Games (Design) (GWK2).
University of the West of Scotland (U40) - Computer Animation Arts BSc Hons (GW48).
University of Edinburgh (E56) - Animation (W615).
Mode of Study:




Full-time

Full-time

Start Date:




27th Aug 2018, 2 years

Location:




City Campus

Applications from International Students Welcome