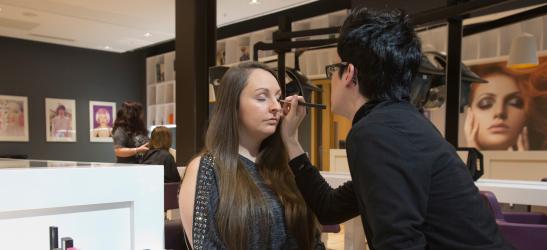 AMETHYST SALON - BEAUTY
We have 2 commercial beauty salons situated within our Amethyst Hair Salon, which offer a variety of treatments to paying members of the public.  Students are trained and qualified through the full-time course curriculum and work unsupervised in the commercial beauty salons to get real-life work experience building up speed, confidence and stamina. 
The experience gained through the Amethyst salon allows students to develop skills in time management, problem-solving and teamwork which enriches them as therapists and helps them become employment ready. Students working with both internal and extremal clients, need to manage stock and laundry, handle payments, consult and recommend return appointments.
The treatment menu is reflective of a commercial beauty salon and students are in charge of the entire client journey. 
If you are interested in booking a treatment call us on 0141 375 5632.
AccessAble Information
AccessAble give you the detailed information you need to work out if a place is going to be accessible to you.  The Detailed Accessibility Guides tell you all about a venue's access.