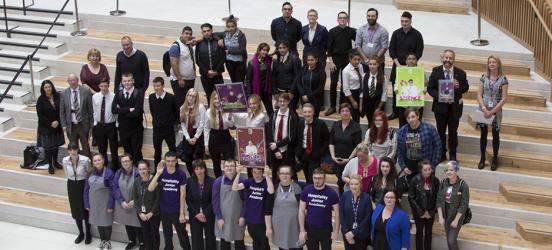 For Young People
The Hospitality Junior Academy is designed for young people aged between 13 and 18 years of age who: 
Are interested in finding out about working in the Hospitality industry.
Are keen to develop soft skills suitable for a part time job in Hospitality or any service area. 
Want a taster course before committing to a full time course. 
Want to undertake the Springboard Front Of House programme. 
Want to do a specialised course e.g. Barista Skills. 
See our successful Hospitality journeys.
For Teachers
The Hospitality Junior Academy is dedicated to working with teachers to offer courses for school pupils providing specialised knowledge and skills. 
To provide custom designed courses to suit the school pupils individual needs.
To provide staff development courses.
To offer the Springboard Front Of House programme if schools do not have the resources. 
To provide current information on employment opportunities in the Hospitality Industry.  
Courses can run from September to June one day a week or half a day. We can also offer shorter courses in12-weekk blocks. 
"We are delighted to work in partnership with City of Glasgow College who are providing an innovative programme of work for our young people within the field of hospitality. Our students have benefitted greatly from this collaboration. Their course equips them with a broad range of skills desirable within the hospitality sector and an opportunity to experience student life whilst still attending secondary school." Mark Symon, Depute Head Teacher at Shawlands Academy.
Springboard's Food & Beverage (FAB) Programme has been created to increase awareness of the range of roles available in Front of House. Launched at City of Glasgow College, supported and delivered through the Front of House Junior Hospitality Academy, young people can access, at first-class facilities, the varied and dynamic opportunities open to them through a career in Front of House. Find out more here.
For Long Summer Holidays 
No matter what you are thinking about doing when you leave school you will more than likely be in Further or Higher education. A part time job may be essential to support you through your studies or you may find that you love the Hospitality Industry and it becomes your future career.  
To provide young people with employability skills for the future.
Short courses to provide essential soft and technical skills for all ages.
Two week courses to beat the holiday boredom. 
Contact
Jane McQueen, Hospitality Lecturer
jane.mcqueen@cityofglasgowcollege.ac.uk