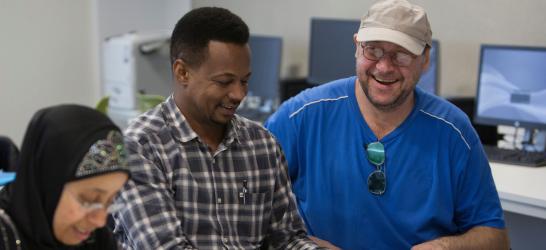 City of Glasgow College has a long history of welcoming all ages, backgrounds, and cultures and our students reflect the vision that learning should be available to all. 
Every student has his or her own unique learning journey – whether they have come straight from school or are retraining in later life, or if they are learning skills to take them into the workplace, or studying for qualifications that will allow them to go on to university.
Many make a considerable journey to get to Glasgow. Our wide ranging student population are attracted by our world class facilities and the welcoming atmosphere. 
More than 1000 international students join each year from nearly 120 different countries. 
We recognise that students have many different needs, especially those who have relocated from a different part of the country, or a different part of the world, leaving family and friends. We have a support system in place to help adjust and adapt to the new surroundings as easily as possible.
Induction sessions are held to welcome students not just to their new college but also to their new home city as well as providing practical information about registration, accommodation, shopping, living expenses, etc.
Student Engagement Officers are on hand to help with a range of support from access to banking to healthcare. To help immerse international students in the culture of Scotland, sight-seeing visits and days out are arranged as part of the welcome. 
Student accommodation for the college is available at Riverside Campus and St Luke's Terrace. Both offer single and double rooms, all with en-suite bathrooms and shared kitchen/living facilities. These provide a modern, comfortable environment allowing students to make the most of their studies. They include a support system by dedicated staff ready to help with whatever students need.