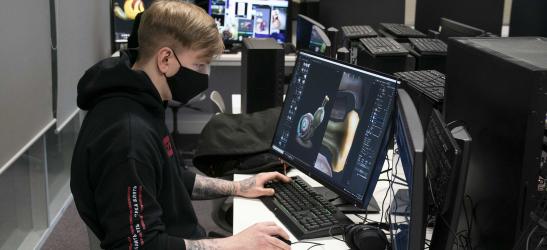 Students and apprentices from City of Glasgow College are getting ready to compete in the WorldSkills UK National Qualifier heats which take place in June.  Students will put their skills to the test to be named the best in the UK in their chosen skill at the National finals which take place in November. 
Taking part in competitions is proven to enhance your learning and development. The competition activities are linked to national & international standards and designed to focus on capacity building in core skills and competencies valued by employers including teamwork, problem-solving, time management and working under pressure. 
Your participation in WorldSkills competitions will be ground-breaking for the college and an opportunity to showcase your skills to prospective employers in the future. 
Boot Camp
We look forward to welcoming competitors to our first Boot Camp preparing competitors for the upcoming WSUK National Qualifiers in June.  It is an opportunity for you to meet with all other members of the team and trainers. 
WorldSkills @ City of Glasgow College Team Bootcamp 
Date: Tuesday 10th of May 2022 
Start time: 4pm to 6pm (refreshments served from 3.30 pm) 
Location: Lecture Theatre, City Campus, Rooms C.01.017 and C.01.021, City Campus. 
  Session aims:-
To prepare you for the qualifiers and national finals and equip you with wider tools and techniques to enable you to become competition ready. 
Learn what to expect up to and during the forthcoming National Qualifiers which take place end May/June.
Meet your support team.
Learn about our guiding WorldSkills Team City Performance Principles. 
Learn how to perform under pressure.
Understand how diet and nutrition can make a difference to how you perform during competition. 
Learn how to develop a growth and winning mindset.
FAQs  
What is WorldSkills?  
Founded in 1950, WorldSkills is an international movement and is the global hub for skills excellence and development with the vision to improve the world through the power of skills. It brings young learners and apprentices together, giving them the chance to compete, experience, and learn how to become the best in their skill of choice.
WorldSkills aims to raise the profile and recognition of skilled people, and show how important skills are in achieving economic growth and personal success. At the college we have set up a WorldSkills Academy to support your development in preparation for this prestigious competition. 
Why is training required? 
The skills demanded by WorldSkills UK competitions are at the standards of excellence set by international experts. Training is required to give you the preparation required to meet these standards and compete at the highest level. 
What training will I receive and when?  
The training will include focus on practical skills and mindset skills to be delivered by experienced national and international experts.  Your trainer will be in touch regarding arrangements for training from the end of February which take place to fit in with your current course and personal commitments.  
When will training start? 
Arrangements are being made to have training start at the end of February 2022.  
How will I access training after I leave college in June?  
Each successful entrant to the programme is enrolled with the WorldSkills Academy at the college, and has access to support and training up to competition date no matter whether they have moved on to employment or to university. 
What do I do next? 
Get in touch with worldskills@cityofglasgowcollege.ac.uk for details on how to get involved or sign up for one of our information sessions taking place mid-January/February.  More details to follow.
Further Information
If you have any questions please contact worldskills@cityofglasgowcollege.ac.uk.