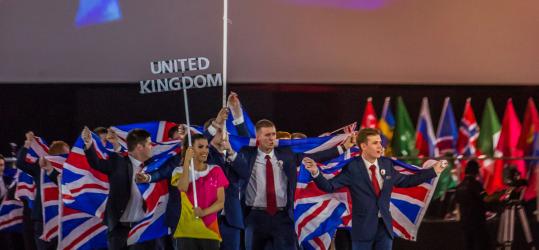 International Programme Squad UK
To achieve international success, WorldSkills UK needs to select the best of the best from the UK's top apprentices and learners.
Those selected to train for international competitions are put through a rigorous accelerated development programme designed by Experts. Each individual is required to meet a series of international benchmarks in order to progress to the next stage of training.  
WorldSkills research shows that whatever stage of the development programme an individual reaches, the training they complete is hugely beneficial to their apprenticeship or training programme and the development of their employability skills.
City of Glasgow College Competitors in Squad UK.
Greta Volungeviciute - HND 3D Design/Display Design for Retail.
Erik Petnehazi - HND 3D Digital Games Art.
George Hutchison - HND 3D Digital Games Art.
Ross Findley HND - 3D Digital Games Art.
Morgan Swift - SVQ Wall and Floor Tiling.
Simona Federova - HND Hospitality Management.
Samuel Miller - HND Computing.
Squad UK Training
Supported by their employer and training provider, members of Squad UK follow a challenging training programme that is designed by WorldSkills UK Experts and is based on the international WorldSkills Standards.
The competitors also follow a similar programme to that of the UK's top athletes. This training focuses on developing their key attributes including problem solving, teamwork and leadership, all of which are essential to developing a medal-winning performance.  
EuroSkills and WorldSkills
Members of Squad UK compete at Euroskills before rejoining the Squad UK training programme working towards selection for WorldSkills.
Budapest, Hungary 2018
Kazan, Russia 2019
Graz, Austria 2020
Shanghai, China 2021
Team UK Selection, 28 March to 1 April
Designed to replicate the challenging conditions faced by competitors at the WorldSkills Competitions, the Team UK Selection process takes place over four days.  During the selection process, members of Squad UK compete against each other for the one place to represent their skill in Team UK.
Team UK training
Members of Team UK continue with their development programme supported by their Expert, Employer and Training Provider. This training focuses on the refinement and development of an individual's higher level skills.