Commitment
The City of Glasgow College is committed to advancing equality and accessibility in all of our activities. To find out more about our commitment and approach, check the College's Equality, Diversity & Inclusion section.
Recite Me
Recite is an innovative Cloud based web accessibility solution which allows our visitors to customise our site the way they need it to work for them. Easy to use, the software includes text to speech functionality, dyslexia software, an interactive dictionary, a translation tool with over 100 languages and many other features. For more details, please click the image below.

To learn how to use the Recite Me Toolbar view:
Accessible Web
Our website has been built with accessibility in mind. This means you can easily customise the look of the website to suit your own needs and preferences. Find out how to change basic appearance settings in some common browsers below (alternative commands for Mac users are included in brackets).
Customising Internet Explorer
Change text size - View > Text Size.
Change colours and font style - Tools > Internet Options > Colours or Fonts.
Disable images - Tools > Internet Options > Advanced > scroll down to Multimedia > untick the box labelled 'Show pictures'.
Disable JavaScript – Tools > Internet Options > Security > Custom Level > scroll down to Scripting > select Disable for Active Scripting.
Customising Firefox
Change text size - View > Zoom > click on Zoom Text Onlythen go to View > Zoom > Zoom In (Ctrl++).
Change colours and font style – Tools (Firefox) > Options (Preferences) > Content > Advanced and Colors.
Disable images - Tools (Firefox) > Options (Preferences) > Content > untick the 'Loads images automatically' box.
Disable JavaScript - Tools (Firefox) > Options (Preferences) > Content > untick the 'Enable JavaScript' box.
Customising Safari
Change font size - page menu icon (Safari) > Zoom > click on Zoom Text Only then go to page menu icon (Safari) > Zoom > Zoom In (Ctrl++).
Change font style or upload style sheet - settings icon (Safari) > Preferences > Appearance or Advanced.
Disable images -settings icon (Safari) > Preferences > Appearance > untick the 'Display images when page opens' box.
Disable JavaScript – (Safari) > Preferences > Security > untick the 'Enable JavaScript' box.
Customising Google Chrome
Change font size - settings icon (Chrome) > Options (Preferences) > Under the Hood > Font Size.
Change font style- settings icon (Chrome) > Options (Preferences) > Under the Hood > Customise Fonts.
Disable images - settings icon (Chrome) > Options (Preferences) > Under the Hood > Content settings... > select 'Do not show any images'.
Disable JavaScript - settings icon (Chrome) > Options (Preferences) > Under the Hood > Content settings... > select 'Do not allow any site to run JavaScript'.
For further information on customising the web see 'How To...' guides in the BBC's My Web My Way site. For some free tools to help you access and customise websites see the section on Assistive Technologies below.
Physical Access
Visit AccessAble for information on physical access to our campuses and facilities.
Support for Disabled Learners
To find out the range of support options available to our students please visit the Learning Support section of the website.
Assistive Technology
Assistive Technology is any software, or equipment that aids someone with a disability to communicate, learn and live an independent, fulfilling and productive life.
Examples of assistive technology are mindmapping software and adaptive mice.
Assistive technology also includes low-tech tools such as coloured paper and overlays.
Assistive Technology for Physical or Mobility Issues
Students with physical or mobility issues can benefit from equipment such as:
College Buildings Accessibility
AccessAble gives information on the physical accessibility of the college's buildings.  The Detailed Accessibility Guides tell you all about a venue's access:
Software for Physical or Mobility Issues
Computers, and mobiles can be controlled by voice commands. Below is a video using Dragon Naturally Speaking voice control software to control a computer:
Voice control in different devices:
Assistive Technology for Visual Impairments
HARDWARE
Handheld magnifiers/scanners:
Using IPad/IPhone for Visual Impairments
Magnifier
To use Magnifier on the iPhone or iPad:
Go to Settings > Accessibility.
Tap Magnifier, then turn it on. This adds Magnifier as an accessibility shortcut.
Triple-press the home button and choose Magnifier.
Voiceover
To turn VoiceOver on or off you can:
Go to Settings  > Accessibility > VoiceOver, then turn the setting on or off.
Summon Siri and say "Turn on VoiceOver" or "Turn off VoiceOver."
SOFTWARE
Microsoft Lens - Microsoft Lens is a scanning application freely available for Apple, Android and Windows. It integrates with Office 365 applications, like Word and OneNote:

Operating Systems Accessibility for Visual Impairments
Windows 10 Narrator
Windows Key + Enter to launch Narrator.
Windows Magnifier
Windows Key + the Plus sign on the numerical keypad to launch Magnifier.
Windows Ease of Access Settings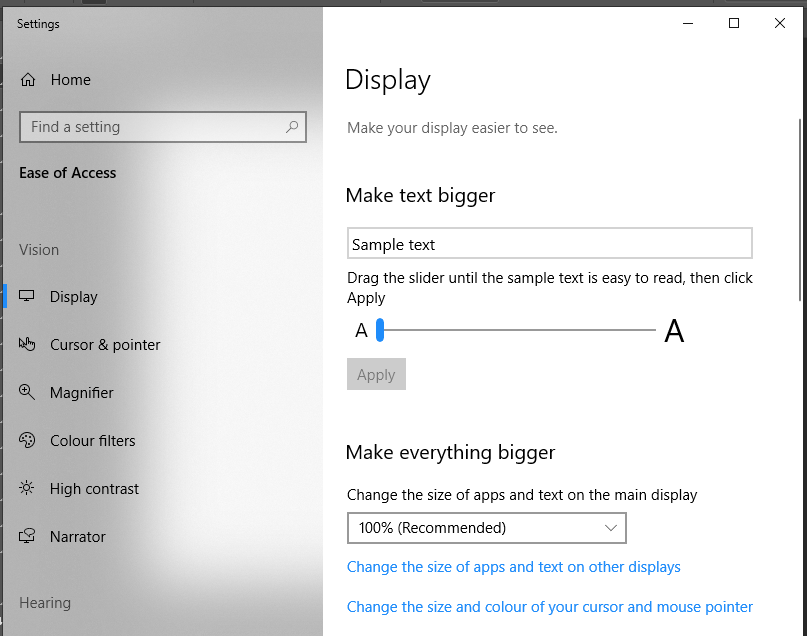 In Windows, you can access commonly used accessibility options from the sign-in screen. Press the Windows Logo Key + U to open the Ease of Access settings.
To open Ease of Access settings on a touchscreen device, swipe in from the right edge of the screen and select All Settings > Ease of Access.
Mac VoiceOver
Command + Option + F5 to launch VoiceOver.
Command + Option + F8 to launch Zoom​.
NVDA Free Screen Reader
Android TalkBack
Talkback is a screen reader included on Android devices. It gives spoken feedback so that a device can be used without looking at the screen. It includes a Braille keyboard.
IRLEN SYNDROME
Color Screen Filter
Irlen syndrome is a condition where the brain does not correctly process visual information. This can lead to issues such as fatigue when reading from a screen without adjustments.
Apple
Changing display options on iPhones and iPads.
Android
Irlen® Colored Overlays allow you to read and work on your device for longer periods of time without strain or fatigue.
Assistive Technology for Hearing Impairments
HARDWARE
Phonak Roger Pen Transmitter
Key features:
Wireless microphone.
Automatic environment sensing to adjust microphone settings.
Directional interview mode or 360 conference mode.
Compatible with mobiles for calls, TVs, multimedia.
USB or docking station charging.
SOFTWARE
Android
Sound Amplifier
Sound Amplifier enhances audio from your Android mobile when connected to wired headphones. Sound Amplifier filters, augments and amplifies sound in the real world.
Autism Spectrum Disorder and Specific Learning Differences
The software listed below can give students control over how they study and complete college work.
SOFTWARE
TextHelp Read and Write Gold
Key features:
Reads most text that appears on a screen.
Reads back typed text.
Saves text in audio files.
Save text and audio in video files.
Spellchecker.
Word prediction.
Highlight and extract notes.
Translates test into French, Spanish, German and Italian.
ClaroRead Windows
Key features:
Reads most text that appears on a screen, in English and 24 other languages.
Reads back typed text.
Saves text in audio files.
Spellchecker.
Word prediction.
Mask the screen with a colour overlay.
ATBar
The ATbar is toolbar to help change the look and function of web pages to suit the user.
MyStudyBar
MyStudyBar is a collection of free Windows tools to support learners with literacy difficulties. It can be run from a USB pendrive or from your desktop. It contains tools for:
Planning.
Reading.
Writing.
Low Vision.
Microsoft Immersive Reader
Available in most Office 365 products, Immersive Reader can:
Focus attention of lines.
Change font and spacing.
Highlight parts of speech.
Break words into syllables.
Read equations aloud.
Translate text into many different languages.
Overlay the screen with a colour.
This is an example from Microsoft OneNote. It highlights verbs, translation options and line focus.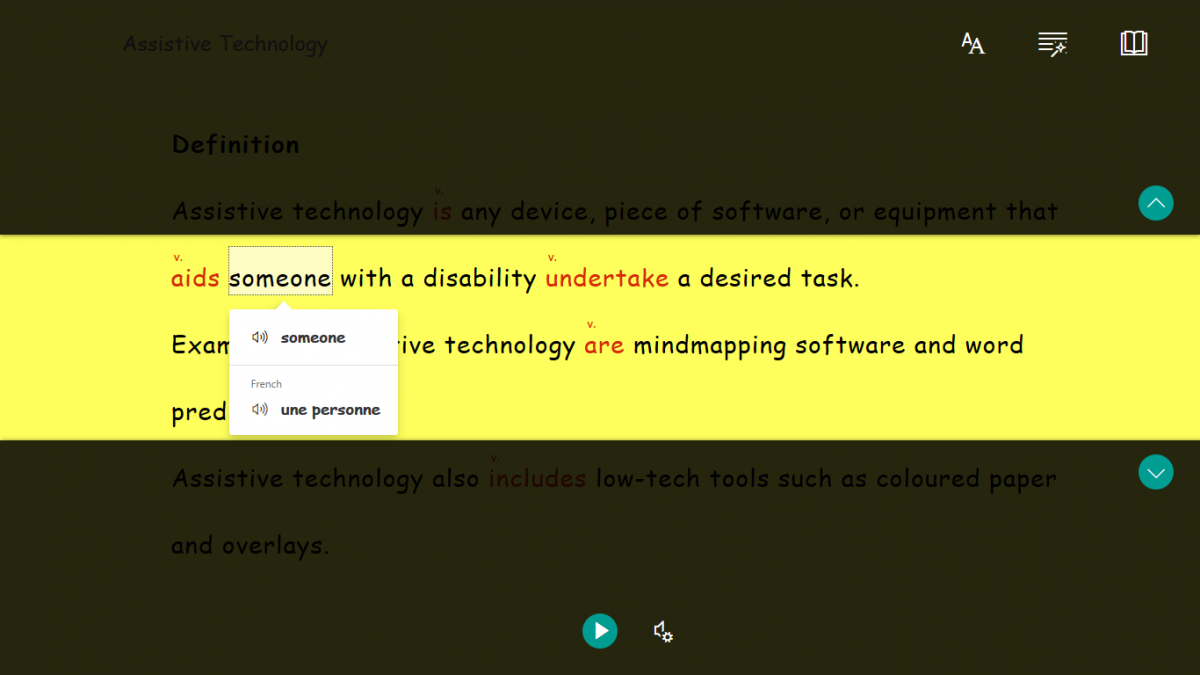 Mindmapping
Many people find it easier to organise their thoughts and work by creating linked images, known as mind maps. Most mindmaps allow you to:
Organise courses or brainstorm ideas.
Create topics by simply typing.
Export in many formats (picture, Word)
Add hyperlinks to Web pages or documents.
Change colour and shape of topics.
Add pictures to topics.
Add notes to topics.
Inspiration
Mindview​
Mindmanager​
Mindgenius
Mindly
Available for iOS/Android and Mac OS X.
Sonocent Audio Notetaker​
Capture audio divided into visual blocks.
Audio blocks can be colour-coded.
Sync with text and slides.
Highlight sections and extract selected blocks.
Reorganise notes.
Add pictures, and diagrams.
Transcribes audio with Dragon Naturally Speaking.
Works on a range of devices.
Using Audio Notetaker in lectures.
HARDWARE
Livescribe
Notetaking pen with notebooks and software.
Key features:
Record audio matched to written notes.
Turn written notes to text.
Range of physical notebook sizes.
Save files to note-taking app or OneNote.
Fully searchable across note-taking app.
Android and Apple apps.
Share notes in multiple formats (pdf, text Images).
Import hand-written notes into Office365.
Digital Audio Recorders
Digital Audio Recorders can be used during lectures or meetings to capture what is said. The sound file can be listened to or edited later. With Dragon NaturallySpeaking the speech can be turned into text.
SOFTWARE
Voice Recorder Pro
Key features:
Export to and import from Google Drive, DropBox and Microsoft® OneDrive.
Convert to a movie clip and export.
Add notes to sound files.
Transcribe audio to text on iPad.
Add bookmarks to records.
Apple
Android
MEDICAL SPELLCHECKER
Spellex Medical Spell checker
Spell check medical and pharmaceutical terms, both as they are spelled and as they sound.
Android