Winter Graduation 
Our Winter Graduation for all HNC/HND and Professional courses will be held on Monday 26th November 2018 at the Glasgow Royal Concert Hall where we will celebrate the success of our students who completed their courses in June 2018.  Details will be sent to eligible students in October.
Ceremony 1 at 11am - Faculties of Leisure & Lifestyle and Education & Society.
Ceremony 2 at 3pm - Faculties of Creative Industries, Building and Engineering and Nautical.
Ceremony 3 at 7pm - Faculty of Business and Professional Courses.
Please note ceremony timings may be subject to change.
Summer Graduation
Students from our Faculty of Nautical Studies celebrated their success and achievements amongst family, friends and staff at the recent summer Graduation Ceremony.  Glasgow Cathedral is a remarkable venue boasting stunning architecture which only added to a remarkable occasion. 
You can view the special Herald Graduation Supplement featuring inspiring stories about our students, innovative research and our award-winning Riverside Campus.
Photographs from the evening are on our Facebook page.
You can watch the ceremony below.
Contact
If you have any questions about Graduation please contact Ann Brannan on 0141 375 5273 or ann.brannan@cityofglasgowcollege.ac.uk or ask for a member of the Events Team at Riverside Reception.
Graduation Shop
We have a selection of college-branded merchandise for sale including 'Class of 2018' Varsity Jackets (£22.50) and Hoodies (£18).  A selection of other branded items are also available and are on display at Riverside Reception. If you are interested in buying a hoodie or jacket please go to Reception at Riverside or City Campus.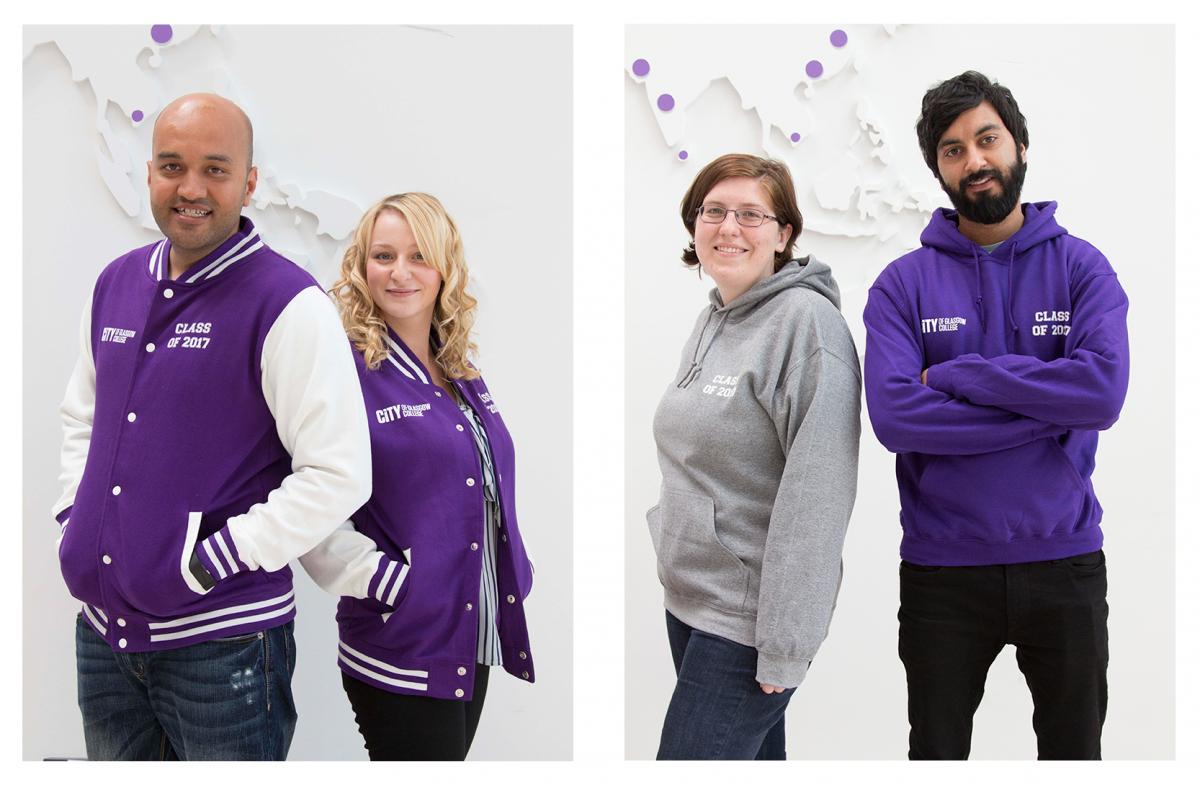 A Very Social Event
Share your thoughts on Graduation with us across our social media accounts - this could be your comments on the day, opinions, advice or your very own Graduation pics and selfies!  Just use the tag #COGCGRAD.  Watch out for our brand new Snapchat filter on the day and share your achievements with friends and family.
Welcome to your Alumni Association
Every student who graduates from City will be invited to register for our Alumni Association and join an expanding community enjoying various benefits, including:
Continued access to college facilities.
Networking opportunities.
Exclusive discounts to members.
And much more...
For further information regarding the Alumni Association contact alumni@cityofglasgowcollege.ac.uk or 0141 375 5277.