The Learning & Teaching Academy is an Academic Staff Development service that supports and enables the enhancement of learning and teaching through the use of innovative pedagogy, appropriate technology and use of learning spaces.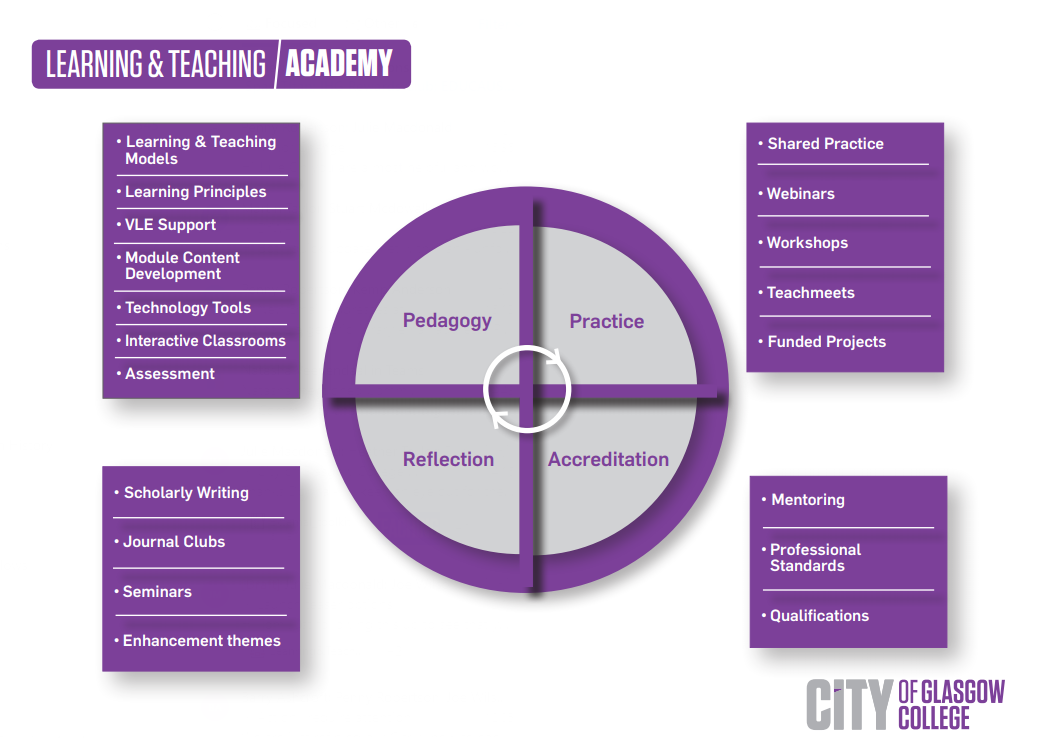 Our College doesn't exist in a vacuum. It is always and everywhere shaped by world events, technology and educational research.  Learning and teaching needs to be restructured in several ways to meet these powerful forces. Faculty must be prepared to teach in online, blended, and face-to-face modes utilising varying pace, places and modes.  Key trends include blended learning design, measuring learning, advancing technology in traditional learning, redesigning learning spaces, providing open learning materials for the community, cross-institution and industry collaboration, rise of microlearning, CPL and Alumni learning and modularised and disaggregated studies.
In tackling such large targets the College has embarked on a bold initiative to Refresh, Renew and Rebuild an approach to professional learning that will establish City as a global institution leading in learning and teaching to prepare our students for jobs they will inhabit that are as yet not invented.  We encourage staff to undertake content development that aligns with our staff learning development principle
The Academy, established in 2020, brings together expertise in instructional design, academic development and learning technology in one place to inspire Pedagogy, Practice, Accreditation and Reflection in our staff by:
Delivering digital transformation through relevant, timely and effective training and professional development through 1:1, F2F, webinars workshops and symposia.
Providing digital resources and networking opportunities to engage academic staff.
Researching and cascading best digital practices - to improve our classroom and on-line delivery.
Supporting scholarly activity to support new standards for lecturers and taught degree awarding powers across the institution.
Supporting innovative teaching practices across the organisation and providing a platform and opportunities for colleagues to share their experiences. Through communities of practice and fellowship opportunities.
Supporting the development and skills of all staff to an agreed digital literacy standard.
Providing robust, reliable and innovative services from the library and learning technology teams to ensure that all staff and learners are confident in making the most of our learning assets.
We hope you join us in this exciting journey!
Tom Duff
Associate Director
Learning & Teaching Academy