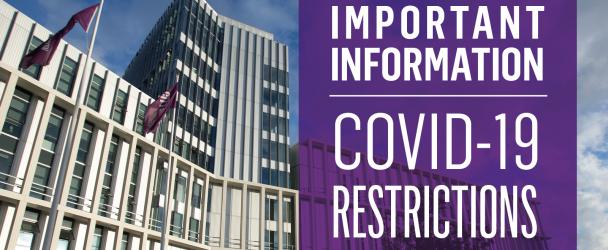 STUDENT TESTING
We're partnering with Glasgow Caledonian University (GCU) to help get students home for Christmas. A new Student Test Site at GCU campus is open until Saturday 12 December 2020 from 10am-6pm (Mon-Sat) offering two free voluntary tests to City of Glasgow College students wishing to travel home for the festive period.  
The tests, to be taken three days apart, are designed to identify students carrying the virus but are not displaying COVID-19 symptoms. Testing will help to break the chain of transmission, especially when students may be unaware they have the virus, and help to ensure the safety of their loved ones back home. ​ 
The on-campus testing site will be located in Glasgow Caledonian University's CEE building and GCU has set up a dedicated online booking system to help speed up the process. Please do not go to the NHS test centre located in The ARC.
The Lateral Flow Tests do not require laboratory processing and can turn around results rapidly. You will be notified of your test results within 24-hours or sooner.
Although voluntary, students are being urged to get tested twice at the earliest opportunity to give them enough time to get full results back before heading home to their families. 
If students receive two negative tests, they will be advised to return home immediately. Should a student test positive in either of their tests, they will be legally required to self-isolate for 10 days together with others in their household. They will also be advised to book a further confirmatory test at an NHS test centre as soon as possible to give them time to get home for Christmas if they get the all-clear.
We are also asking students who are planning to return home at the end of term to voluntarily reduce social mixing two weeks before travelling.
Further information is available on GCU website.