The Glasgow Guarantee is a highly regarded employment programme which supports Glasgow residents into work and helps local business to grow and prosper. It offers many benefits if you are:
a Glasgow resident who is unemployed or about to leave school or college - we have lots of apprenticeship and job opportunities available to you
As a candidate looking for a new job - join our scheme to benefit from:
Instant access to a large number of permanent Glasgow vacancies and Modern Apprenticeship opportunities when you sign up whilst still at school or college
Full support and assistance from your local Employability Provider, if you've been out of work for a while - to help you get ready for your new role
Becoming a valued member of a team – job vacancies are for a minimum of 18 months and apprenticeships have a minimum 2 year duration. You get access to the same terms and conditions as other employees
Earning whilst learning – get paid the Glasgow Living wage (or a percentage of if under 21yrs old)
Access to your own dedicated online account to view and apply for vacancies once registered. Registration includes an eligibility check process. Applications can only be submitted once all checks are complete and verified by Glasgow Guarantee.

Want to Know More?
Read our helpful guide below.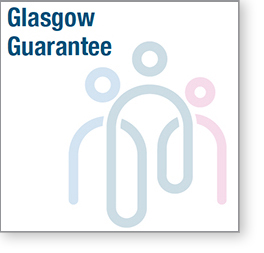 Or, visit the Glasgow Guarantee website.