Conference supports teachers of English Language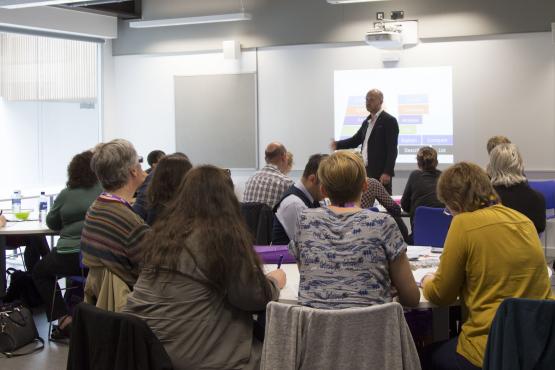 City of Glasgow College - ESOL Conference
City of Glasgow College hosted its second ESOL (English for Speakers of Other Languages) conference at its stunning Riverside campus on Wednesday 15 June.
Over 100 delegates from schools, colleges, local authorities and businesses across Scotland took part in a variety of workshops aimed at generating excellent practice in English Language teaching in a Scottish and UK context.
Mary McManus, Curriculum Head for ESOL at City of Glasgow College, said:
"The conference's mix of presentations and workshops created a very lively learning environment for everyone. We had a diverse range of participants – individuals, organisations, client groups - who had the chance to generate and pass on new ideas, share best practice and network.
"This was our second ESOL conference following a very successful launch last year. We were overwhelmed with bookings so we plan more workshop choices next year so that we can accommodate a greater number of delegates.
"As the numbers for whom English is not a first language increase, ESOL plays a crucial role as it helps non-English speakers settle into their community and gives them confidence in managing every day activities. To emphasise this we were supported by six of our ESOL students who acted as guides for the day, interviewing many of the delegates and presenters - a practical example of ESOL in action."
This year's keynote speaker was Andrew Walkley, a Senior Lecturer in the Centre for English Learning and Teaching at the University of Westminster. His talk focussed on how language works and is acquired, student needs, and frequency of words and grammar. He presented practical ways to help students engage in simple but more varied and relevant conversations.
Principal Paul Little
Andrew Walkley: Lexis and Grammar in ESOL
Download a copy of the Grammar Lexis and Lower Level Learners presentation.
Steve Brown (West College Scotland): Project Based Learning in ESOL
Download a copy of the Language Input Through Project-Based Learning presentation.
Anne Margaret Smith (ELT Well): Dyslexia in ESOL
Download a copy of the Including Dyslexic Language Learners presentation.
Tony Prince (NILE): Jagged Profile / Smooth Learning
Download a copy of the Jagged Profiles and Smooth Learning presentation.
Barbara Ilett: Pronunciation in Multi-lingual ESOL CLasses
Download a copy of the Teaching Pronunciation presentation.