Skilled Scottish Stars Celebrated at Parliament following Global Success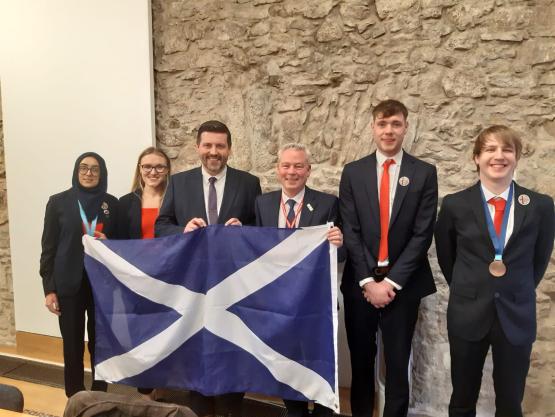 Talented students from City of Glasgow College were honoured at Parliament this week following their global success in WorldSkills, known as the 'Skills Olympics'.
Taking place from September to November last year, the biennial WorldSkills Competition saw over 1000 young people compete in 15 countries.  Scotland entered five competitors as part of Team UK and they were awarded four Medallions for Excellence, which are presented to those who reach the world-class standard in their skill.  
This impressive performance saw Scotland achieve a fantastic result in digital skills, beating China, Germany and Singapore in the medal table.  Overall, Team UK came tenth in the world.    
Youth Employment and Training Minister Jamie Hepburn said: "It's great to see students and young professionals from Scotland represent our country fantastically well on the international stage. Their hard work and intensive preparation is something to be proud of.
"I have no doubt that their success and endeavours will encourage others to get involved in our excellent skills system."
The medal winners included:  
George Hutchinson who competed in 3D Digital Game Art.  George attended City of Glasgow College and is now studying at the University of West Scotland.  George competed in Korea.  
Simona Federova who competed in Restaurant Services.  Simona attended City of Glasgow College and now works at Gleneagles.  Simona competed in Switzerland.  
Both George and Simona were awarded Medallions for Excellence in their categories establishing City of Glasgow College as the top performing college in Scotland at WorldSkills this year.
City of Glasgow College Principal & CEO, Paul Little said:
"To be named among the top performing organisations in WorldSkills is a fantastic achievement and recognises the high level of teaching standards within our college. To have excelled in such a difficult year shows that their skills and dedication are truly first rate.
"Well done to all our incredible finalists and congratulations to our medallists, trainers and coaches".