Super College Attains STEM Assured Excellence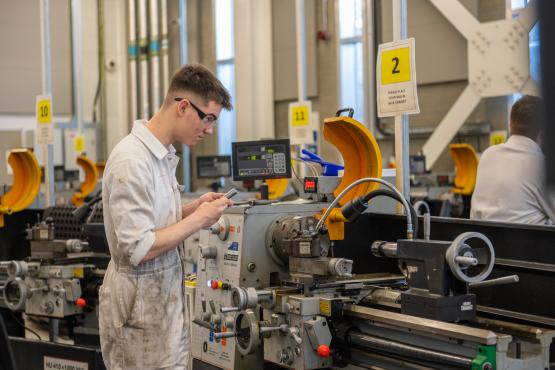 City of Glasgow College has retained STEM Assured Status for the next three years after meeting and exceeding the UK STEM Foundation's rigorous accreditation criteria to preserve our STEM status.
STEM Assured is an integrated, leading-edge Standard that offers a practical way to benchmark, validate and drive continuous improvements in STEM provision. The College has been awarded best practice within all six overall categories.
Paul Little, Principal & Chief Executive of City of Glasgow College, said:
"I am absolutely delighted that we have yet again achieved STEM Assured Status, and especially so given we have been awarded best practice within each of the six category areas overall. Achieving the STEM Assured status also promotes a strategic commitment to developing scientific and technical excellence that has been validated independently by a panel of experts from industry and academia.
"The panel's glowing report is a terrific endorsement of another superb Team City effort and represents an extremely helpful validation of the College as a UK Best Practice tertiary institution. STEM education has a vital role in delivering real benefits to our students, and our links with industry create a talent pipeline that is work ready and able to tackle the skills gaps across sectors."
City of Glasgow College achieved best practice status within each of the category areas we were benchmarked in:
Strategy & Planning
Collaboration & Consultation
Innovation
Design
Delivery
Impact
Stuart McDowall, Head of Innovation & STEM at City of Glasgow College, added:
"I am thrilled that we have maintained our STEM Assured Status and we have demonstrated our excellence across all six categories since 2018. We are committed to continual improvement and innovation in our STEM-related provision, keeping pace with rapid technological advances and changing job markets, while successfully engaging with employers and key stakeholders.
"The College has proved our STEM provision is consistently of a high quality, aligned with current and anticipated industry workforce requirements and offers a multi-disciplinary context to students and learners to reflect 'real-world' needs and industrial settings."
An Accreditation Panel of experts from industry and academia used the STEM Assured certification framework to examine the colleges' strategic plans in relation to STEM provision. The assessment examined the colleges' performance against criteria set out by the Scottish Government's STEM Strategy, which includes the four pillars of Excellence, Equity, Inspiration and Connection.