Symposium debates impact of digital learning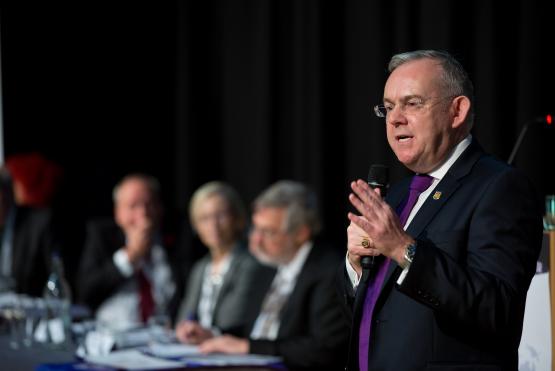 City of Glasgow College, Education Symposium 2016, Principal Little
As demand for education and skills increases to keep pace with the rapid growth in digital technology, City of Glasgow College's annual International Education Symposium will address digital learning and the student experience.
Academics and industry experts from the education and digital technology sectors are meeting to debate what impact the unprecedented pace of changing technology will have on learning and the future employability of students.
Principal and Chief Executive of City of Glasgow College, Paul Little, said:
"College education has long been undervalued, viewed more as a stepping stone rather than as a valuable and empowering destination. Our Education Symposium provides an opportunity to articulate the critical role colleges play in the economic success of our country and its digital future. I am looking forward to a stimulating day of discussion and debate on how digital can really make a difference."
Melissa Highton, Assistant Principal and Director of Learning, Teaching and Web Services at the University of Edinburgh, is one of the key speakers at this year's Symposium and will discuss the value of open educational resources. She says:
"Digital open educational resources give us the opportunity to enhance our learning and teaching provision in many new and exciting ways. Investing time and effort in sharing and re-use brings benefits for all involved. The Digital Education Symposium at City of Glasgow College will provide a lively forum for an exchange of ideas."
Taking place on Tuesday 3 October at the college's award winning City campus, the event follows last year's inaugural Education & Maritime Symposia which was hailed a huge success by delegates.
Live demonstrations of the college's digital learning environment will be available in the afternoon with an evening reception giving delegates the opportunity to network.
Please click here for more information.