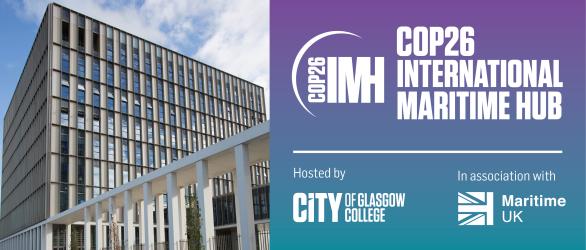 COP26 International Maritime Hub
City of Glasgow College's award-winning campus on the River Clyde became the COP26 International Maritime Hub (IMH) hosting a range of exclusive events highlighting UK maritime expertise. We are delighted to be hosting this in partnership with Maritime UK.
Officially opened by First Minister Nicola Sturgeon on Friday 29th October the Hub showcased green technology, innovation and capabilities from across the UK maritime industry.
This was an unrivalled opportunity for the global maritime sector to come together to discuss the shared response to the climate mission.  COP26 offered the chance to showcase the progress and ambition to net zero in the maritime sector and advance discussions on how industry and governments can collaborate to overcome challenges, move towards net zero and increase UK competitiveness in the global maritime market.
Over the two weeks a variety of events took place including dinners, seminars, conferences, meetings and exhibitions with key figures from the United Nations, industry, politics and education all coming together to discuss the move towards net zero.
The Innovations Exhibition at the Hub featured key initiatives and projects that support City of Glasgow College's approach to sustainability, showing what is happening across the curriculum in terms of raising awareness of climate action and developing green skills.
The Hub also hosted the college's Voyage to Carbon Zero Seminar delivered in partnership with the Scottish Maritime Cluster, the seminar looked at the challenges and opportunities facing the shipping sector in achieving carbon zero.
Paul Little, Principal and Chief Executive at City of Glasgow College, was delighted to welcome influential industry leaders and technologists from across the maritime sector.