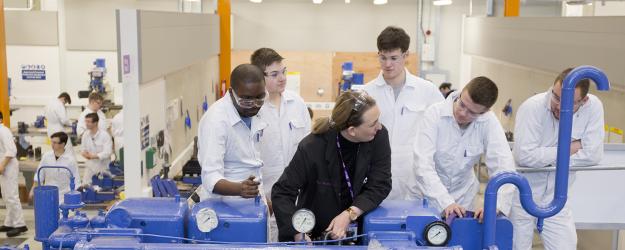 Overview
The 'alternative route' is designed for those with relevant Engineering qualifications to apply directly to City of Glasgow College for an action plan detailing the requirements they must meet to obtain an Engineering Officer of the Watch Certificate of Competency (COC).
The College will assess the applicant's qualifications and experience and issue an action plan that, along with MIN 511, will detail requirements for the applicant to meet the Engineering Officer of the Watch (EOOW) unlimited, STCW Convention regulation III/1 standard.
Entry Requirements
This route is for those with relevant education or training as detailed below:
Graduates or Higher National Diploma (HND)/Higher National Certificate (HNC) holders in Mechanical or Marine Engineering, or in an engineering subject that covers at least four of the following 6 subjects: Mathematics, Engineering Drawing, Applied Mechanics, Applied Heat, Electrotechnology or Naval Architecture.
Suitable engineering apprenticeship (NVQ level 3 or above) holders;
Additional Selection Requirements
In addition to the above academic qualifications to get the Engineering COC you must obtain the following:
4 months' MCA-approved workshop skills training.
All basic and advanced STCW courses listed under STCW reference A-VI
HELM (Operational) under STCW reference - III/1
Hold a valid ENG1 (medical fitness certificate) or accepted equivalent
We also recommend you complete the High Voltage (Operational) training under STCW reference - III/1 to remove the high voltage limitation from your COC.
What You'll Study
To obtain an EOOW COC you must obtain the following:
Minimum required sea time in watch keeping duties on a ship of at least 750KW engine power, amount dependent on the level of previous academic study.
General Engineering Science A & B programme and pass the applicable IAMI written examinations;
Pass the IAMI EOOW written Engineering Knowledge examinations. This will include the following sections:

General;
Motor and/or Steam;
Control Engineering;

Pass the MCA oral examination 'STCW Reg - III/1 Engineer Officer of the Watch motor and/or steam (for the syllabus see MGN 69 or any subsequent publication).
You may be entitled to exemptions from General Engineering Science A & B and Control Engineering course and exams dependent on previous academic studies.  City of Glasgow College will authorise exemptions on a case by case basis.
Outline of Training Path
Taking into account all the above requirements City of Glasgow College can create a tailored program to meet the applicant's training needs.
The first step would be to obtain a sponsoring company, if possible, to help cover the costs and arrange the necessary travel visas and registration for a discharge book with the MCA.
Next steps would be to obtain a valid ENG1 (medical fitness certificate) or accepted equivalent to ensure you're medically fit to pursue this career.
The basic STCW course and the MCA approved workshop skills can be completed in one college session. Any academics that need to be completed can be studied via our e-learning portal MyCity from your home country and while serving on a vessel as an engine trainee.
Following completion of required sea time, the remaining STCW courses can be completed. In addition, the review of your training record book/workbook and preparation for your IAMI Engineering Knowledge exams will take place at City of Glasgow College.
The final steps to obtain a COC involve applying for a Notice of Eligibility and passing the oral exam.
Next Steps
For more information and to apply for the 'alternative route', contact marine@cityofglasgowcollege.ac.uk.