Policies and Practice
As detailed in our Equality, Diversity & Inclusion Initiative, our equality mainstreaming vision is:
"to nurture an environment in which the equality, diversity and inclusion of students, staff and visitors from all backgrounds are routinely anticipated, expertly accommodated and positively celebrated".
Policies and Supporting Documents
We are marking the end of Trans Awareness Week by launching our new Trans and Gender Reassignment Guidance for Staff Members supporting students or colleagues. This guidance was developed in partnership with Glasgow Clyde and Glasgow Kelvin College to ensure consistently inclusive support across the city for all trans staff and students.
You can find out more in the following useful documents:
Good Practice Examples
We've also provided some good examples of how we've put our initiative into practice. These guides explain how we have embedded our commitment into practice in a variety of ways, across a wide range of situations:
Current Recognition
Please click logos for more information: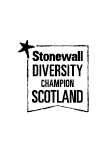 Further Information
Any questions? Please call our Equality, Diversity & Inclusion team on 0141 375 5464 / 5402, or email us at: